LU Ultimate Frisbee Club at the Canadian University Ultimate Championships
Lakehead's Ultimate Frisbee Club team is currently attending the CUUC II (Canadian University Ultimate Championships Division 2) in Ottawa, ON this weekend.
Scores for Open Team: (For Saturday)
Lakehead vs. McGill B = 13-12
Lakehead vs. Memorial = 6-15
Lakehead vs. Carleton B = 4-15
The Lakehead Open team played 2 hard matches against Carleton and Memorial. Both teams played with composure and skills, unfortunately Lakehead did not come out with the two wins. After two hard games, the men faced a talented McGill team. The score was close, as captain Caleb Frisby helped work the disc across the field with Ling "Jason" Jiangzhao helping him handle. At the end it was Stewart Macpherson who caught the game winning catch on universe point. Great defense by Aaron Brecka and Eric Bongelli allowed the turnover which ultimately got the opportunity for a point. Games continue into Sunday as Lakehead's Open team will be playing at 8am.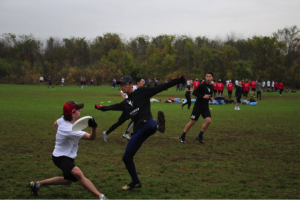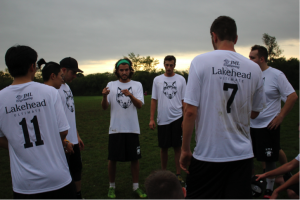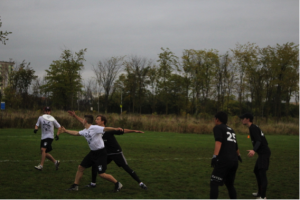 Scores for Women's Team: (For Saturday)
Lakehead vs. Sherbrooke 11-12
Lakehead vs. Queen's B = 15-4
Lakehead vs. Brock = 15-9
The Lakehead Women's team played extremely well, playing their first ever game and winning against Queen's B. Next game, Lakehead came out very strong, starting the game off with a 4-0 lead. Unfortunately, Sherbrooke had many more players, and in the end won the game on universe point. In the last game of the day, Lakehead faced a tough Brock team. With some spirit troubles, Lakehead kept their composure and won the game. Lindsay Edward, Erin Murphy and Yuxi "Eve" Yao had a combined 21 goals as Jasmine Ferdousi carried in with 16 assists and Chuhang "Kity" Zhang with 10. Tough defense was shown by Alicia Todd, Lily Colquhoun and Caroline Robillard. The Lakehead Women's Team are currently in third and will be playing for gold tomorrow.