MBB Adds 6'5″ Wing, Nathan Bilamu, to Thunderwolves' Roster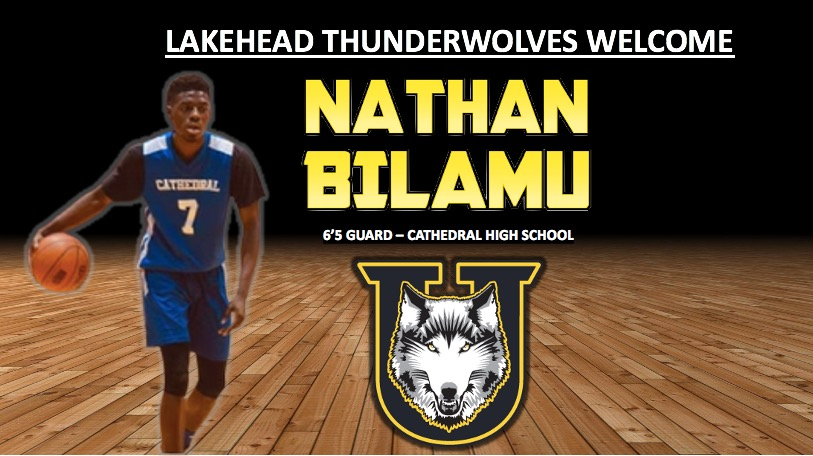 Lakehead Men's Basketball is proud to announce the commitment of 6'5 wing, Nathan Bilamu from Hamilton, Ontario and Cathedral High School. 
"

Nathan led our Cathedral team from Hamilton to back to back HWCDSB city championships and GHAC championships in 2017-18 & 2018-19, along with an OFSAA bronze in 2018. Nathan was a phenomenal player for us during those two seasons averaging over 20 pts/game while we were competing against some of the best teams in the province. Nathan was one of the best scorers in the high school game over this span of time. I look forward to Nathan growing as a person and a player.  I can't wait to see him play at the university level starting this coming fall 2021″ Coach Luca Fortino said. 
"Nathan is a great kid who will make an immediate impact on our program with his length and ability to shoot the ball. He had some big scoring nights while at Cathedral and we can't wait to see what he can do with our group" said Coach Thomson about his newest recruit. "We're excited to get on the court and help continue to improve as a player." 
Nathan will be enrolling in Lakehead's General Arts program, and is looking forward to the move to Thunder Bay. 
"I chose Lakehead because I'm all about brotherhood and representing your community.  They have both. Lakehead is passionate about their basketball, and the team is young with potential. I'm honoured to be a part of that and I'm looking forward to this upcoming season" Nathan said.