Meet Jasmine Ferdousi: An LU Student with an 'Ultimate' Passion
In her 3rd year at Lakehead University and just 20 years old, Jasmine Ferdousi has travelled all around the world playing the sport she loves – Ultimate Frisbee.
Jasmine is originally from Newmarket, Ontario where she first found she had a knack for Ultimate in grade 10. She started the game in order to keep in shape in the basketball off-season but it turned out she was really good.
Once Jasmine realized her athleticism and work ethic was serving her well, she attended a prospect camp for Team Canada. As a fresh high school graduate, she made the cut and played on the U20 Canadian National Team where they won silver in Italy in the spring of 2014.
The following September, Jasmine came to Lakehead University where she began her post-secondary career in the Kinesiology and Concurrent Education Program. The 5'4, right handed, defensive player joined the Ultimate Frisbee Club team where she was not only the youngest player, but she was also the only woman. Seeming like an intimidating situation, Jasmine did not let this affect her playing the game that she loves. Her fellow Thunderwolves were incredibly accepting and friendly but undoubtedly her previous playing experience helped as well.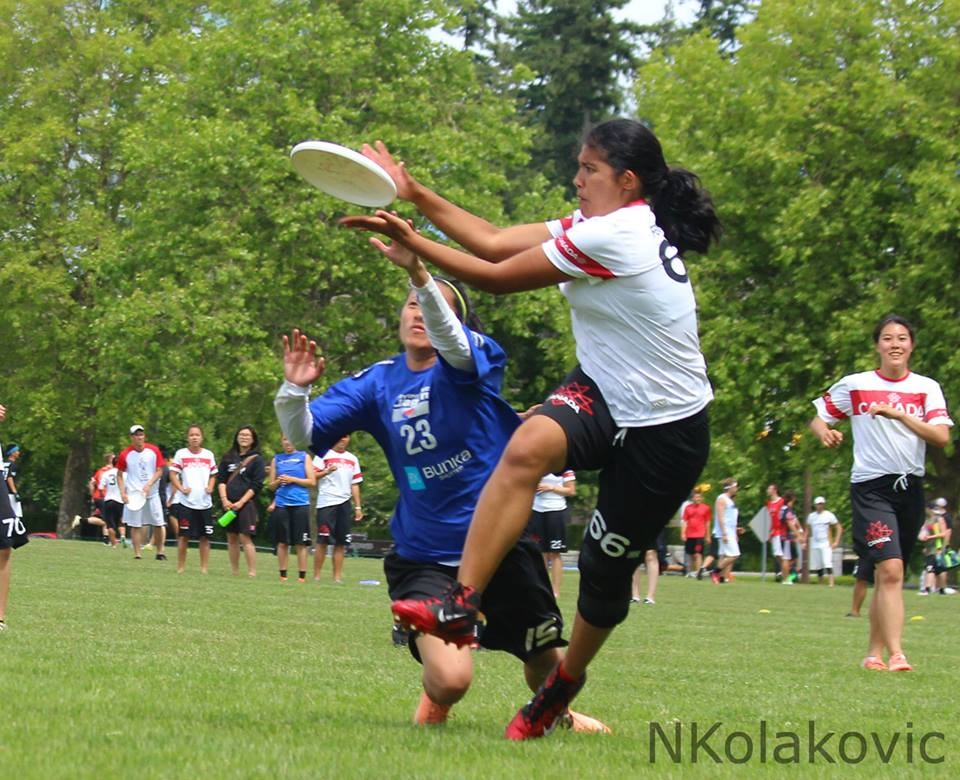 "There is such a good team dynamic playing with the Thunderwolves and everyone was very nice when I first started, and now there are more girls joining the team every year", comments Jasmine.
Although travelling the world and playing the sport you love seems like a dream, it can be extremely detrimental not only on your personal life but also your wallet. Athletes that compete on the Ultimate National stage are expected to finance their way to training sessions, tournaments and any other expenses along the way. After receiving a bronze at the 2015 Worlds in London, Eng., Jasmine decided to take a year off of playing Ultimate.
"I decided to take a year off and focus on my self and spend time with my family, but now I am back to playing and ready to compete."- Jasmine
Two weekends ago, the Lakehead team competed at the Canadian University Ultimate Championships, placing in the top 20.
"It was very fun and a great experience! We now know what we can do better for next year, and we are already making plans to begin recruiting and to train."
Graduating in 2018, the options are endless for Jasmine as she still has 3 more years of school and club eligibility left at Lakehead. She mentions, that she will never stop playing Ultimate until her body cannot handle it any longer. She not only hopes to soon see an all girls Ultimate team at Lakehead but also maybe one day be a coach.
Although the Lakehead Ultimate season is over, Jasmine is now focusing on trying out for the U24 National Team to compete at the 2018 World Games in Perth, Australia.
"Jasmine is one of the most dedicated athletes I know. She has a no-nonsense way of playing, and will let you know if you're not doing something right. She makes everyone around her a better player, it's a pleasure to play and work with her everyday". -Connor MacLean, LU Ultimate Frisbee Co-Captain
Just this past year, Ultimate Frisbee has been recognized by the International Olympic committee and hopes to be an event at the 2024 games.
Ultimate Frisbee has provided a platform for Jasmine to excel at something she loves. She has travelled the world, met a lot of amazing people and experienced things she will carry with her for the rest of her life. Jasmine has such outgoing and exciting personality to begin with, but when she speaks of Ultimate Frisbee, there is no denying she has a passion for the sport like no other.
"Ultimate Frisbee has made me a better person mentally, physically – as a whole"