Men's basketball: season in review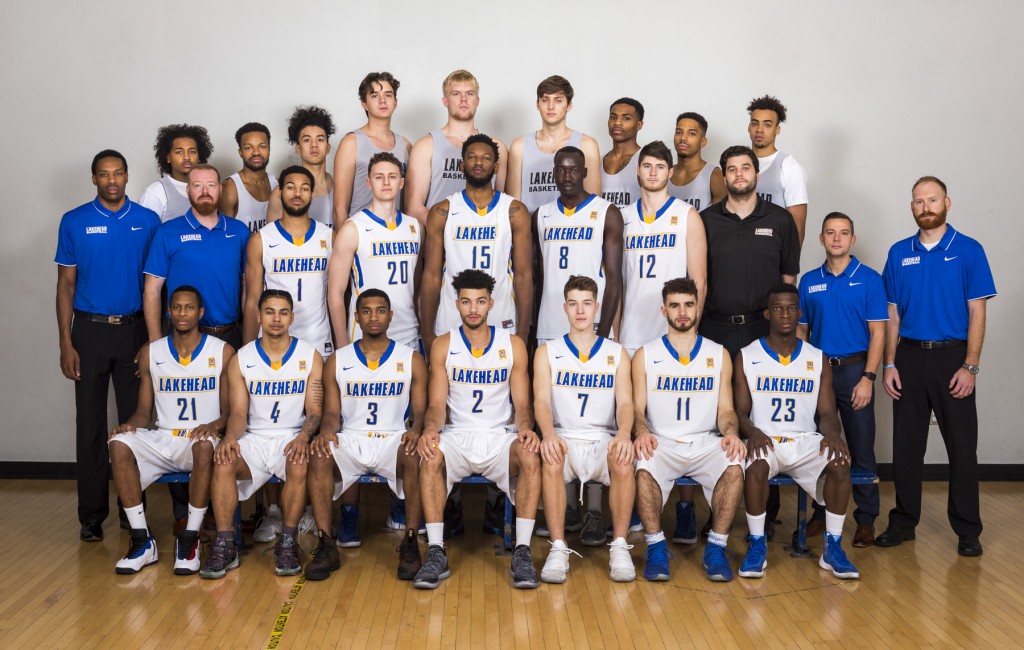 It's been two weeks since Lakehead's men's basketball season ended. They lost to the Brock Badgers in the first round of the OUA playoffs, but for many in the Thunderwolves community, the postseason appearance became a quick rally-point for the program's fandom. Though Lakehead finished 10-14, what many have focused on is the 8-4 run that ended the season.
"The support of the community for the team is huge and it always has been," Thunderwolves head coach Ryan Thomson says. Lakehead fans, it seems, are quick to pounce on success. Perhaps because rabid supporters can recognize it in its rising stages, after all, Lakehead men's basketball is only six years removed from earning a national silver medal.
Ryan Thomson's first year and a half as head coach, however, has seen its share of ups and downs. He took over a winless team in January of 2018, and in only his second game at the helm, coached the team to a 20-point victory. This year, his squad stumbled to a 2-10 start to the season. When the team returned to the Thunderdome for its first home games of 2019, however, everything changed.
"I think the guys got sick of losing," Thomson says.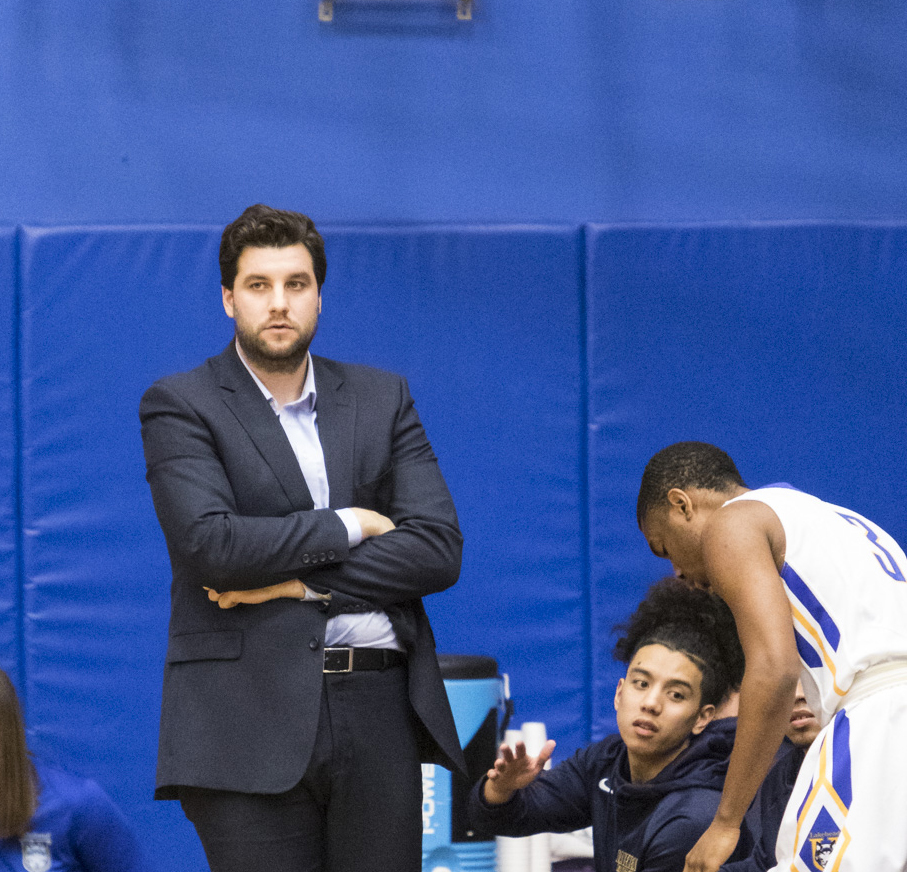 Lakehead's bench boss is an anomaly in the coaching world. As the guiding force of the Thunderwolves men's basketball program—a sport in which most skippers would stand on the scorer's table at centre-court if they could—Thomson frequently stalks the opposite end of his bench, usually hovering within a few feet of the baseline. He's a stoic figure. Minutes of game time will sometimes pass with the only interruptions to his inscrutable expressions and crossed arms coming in the form of quick shouts aimed at referees or momentary discussions with his stable of assists. Thomson is not an animated figure on the sidelines, but he looms large for the Thunderwolves.
Third-year forward Quincy Johnson attributes the 8-4 turnaround in part to the team solidifying around Thomson: "I think trusting coach's plan for the team [led to it]. Seeing that what we were doing wasn't working—we had to buy in. It took a lot of commitment—guys were in the gym putting up shots, and I think that helped with the scoring."
Thomson is more deferential, however, insisting the turnaround was an inevitability.
"We had a number of close games that we were in down the stretch and squandered or faltered a bit," he says. Lakehead lost to Queen's, York, Ryerson, and Toronto leading into the December break. The York game in particular saw the Thunderwolves fall in triple overtime.
"The Christmas and exam break came at a good time for us," Thomson continues. "We were able to take a breath collectively and work on some things we needed to without the pressures of trying to win games. After the break the guys were refreshed, eager to learn and played incredibly hard."
Rahsean Neil-Simpson, a second-year guard from Mississauga who was last year's rookie of the year, agrees with Thomson's thinking.
"It was just a matter of time before the team started clicking," he says. "We always had the talent, we always had the skill, it's just finding the right pieces that complement each other."
Neil-Simpson, however, also gives Thomson credit: "I felt like in the second semester we found that—found the people to play at the right time, in the right moments, and that's [the work of] coach Thomson."
First-year guard Blake Anderson agrees that the Thunderwolves needed time to find the right fit: "we had to learn how to play with each other, learn how to play within coach's system, learn all our roles," Anderson says, "but once we got all that together in the second semester, we started playing really well together."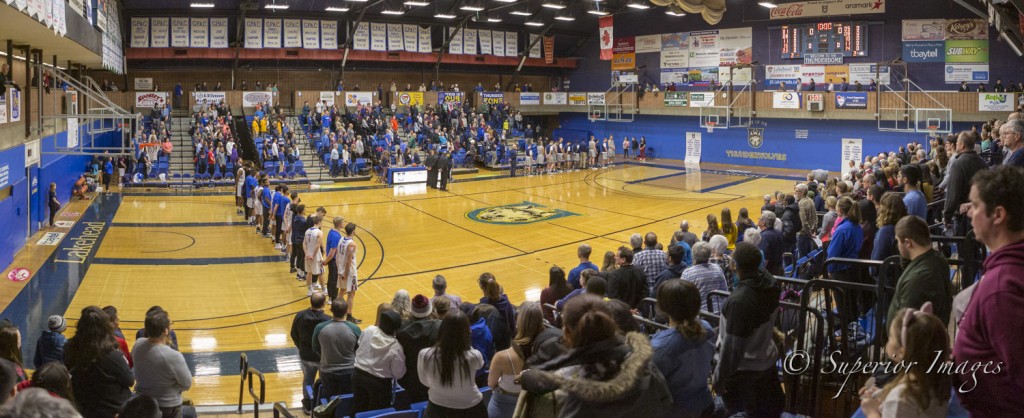 The Thunderwolves responded to the semester break by crushing Windsor in front of an exuberant home crowd. Lakehead split that weekend and the next before returning home to face the nationally-ranked Western Mustangs. The Thunderwolves swept, and the Thunderdome was rocking.
"As a group the guys continued to improve all season and bought in and really started to enjoy playing with each other," Thomson says. "Everything these guys achieved they worked hard to accomplish."
Lakehead then went to Waterloo and dropped 125 points on the Warriors, the most scored by any team in the OUA in a single game this year.
Isaiah Traylor, the stand-out guard in his first year with the Thunderwolves finished that game with a team-leading 29 points.
"It was a good feeling," Traylor says. "See, I didn't know that it was the most points [for a team], but it was a great feeling. I kinda got going—the team, it was good, everybody was clicking. Everybody did good, not just me—-it was a well put together win for us as a team."
"The 2pm start time had us a bit concerned as a staff," Thomson says. "It was a short turnaround and we hadn't played particularly well the night before despite getting the win. The guys came out and made some shots early, got some stops, and then they really just got on a roll."
The Thunderwolves won by 48 points.
"After the first game [at Waterloo]," Quincy Johnson adds, "we felt like we could win by a lot more than we did. We were hitting shots, and I think when we're hitting shots we're a pretty scary team."
Johnson's characterization of the Thunderwolves as scary has proven true a few times this year. On top of turning around from last year's coaching midway through a two-win season to qualifying for the OUA playoffs this year, the Thunderwolves picked up wins against the Western Mustangs, Laurier Golden Hawks, and Brock Badgers this season—all teams that were ranked within the national top ten.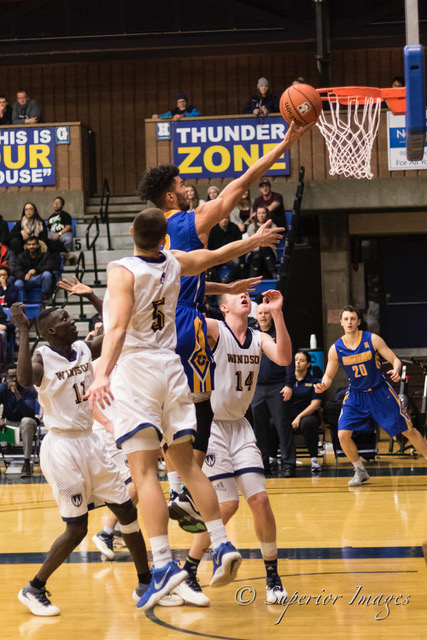 "As a team we felt like we should have been playing better all year," Thomson says, "but we had neglected to do some things that would have helped us close out games [early in the season]."
It's telling that the Thunderwolves' scoring average improved over 10 points per game, from 72.6 to 83.4 after the break. The team also experienced a resurgence defensively at that same time, however, as their opponent scoring average fell from 85.3 points per game to 77.5 after the break. According to coach Thomson, the renewed effort to clamp down on opposing teams was in part due to senior guard Nick Burke and newcomer forward Lock Lam. For the Thunderwolves, Burke was the defensive anchor on the perimeter throughout the year, while Lam solidified the interior.
"Burke was fantastic all year," Thomson points out, "but that weekend back in his hometown playing against McMaster might have been the best basketball of his career, particularly the 2nd game." Nick Burke scored 31 points, grabbed 4 rebounds, dished out 6 assists, and picked up 7 steals against the Marauders in Hamilton on January 19th. His 7 steals were the most in a single game in men's basketball in Canada this season.
The Thunderwolves guard, who averaged 1.42 steals per game this season, is known both for being one of the most cerebral players in the OUA, and also for his intensity. Burke, who finished his fifth season with Lakehead this year, spent his time away from the court working on his Masters of Statistics degree. In the Thunderdome, however, his quiet demeanor gave way to a ferocious energy belied by the confident uproar he'd let out during his best-for-last player introductions at home—Burke could always be heard above the music, and his spirited yells vitalized the Thunderwolves' game-opening efforts.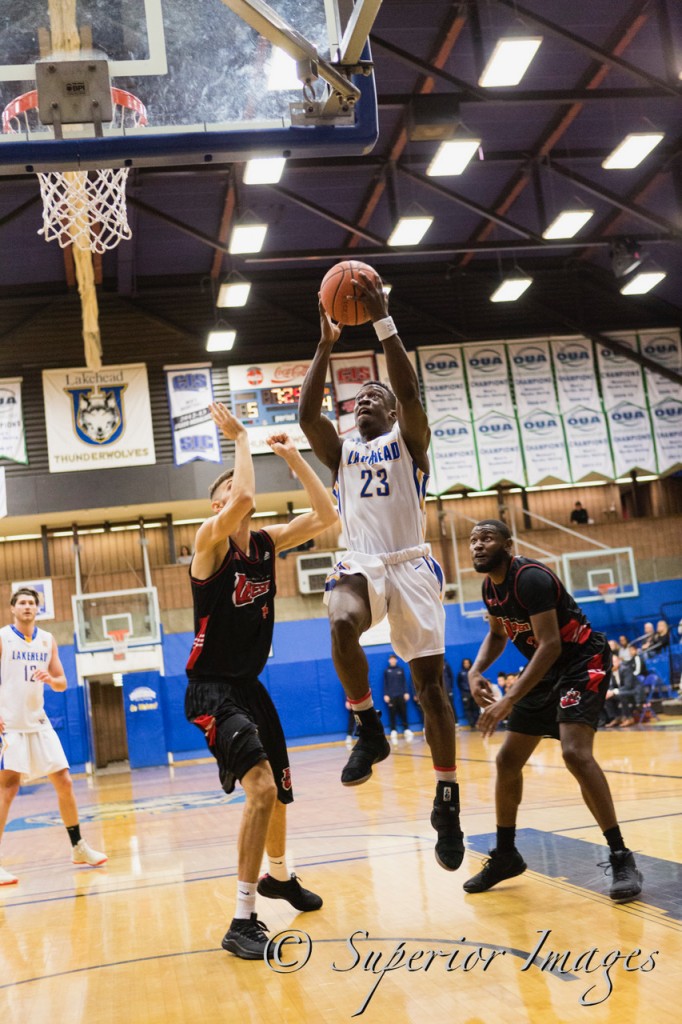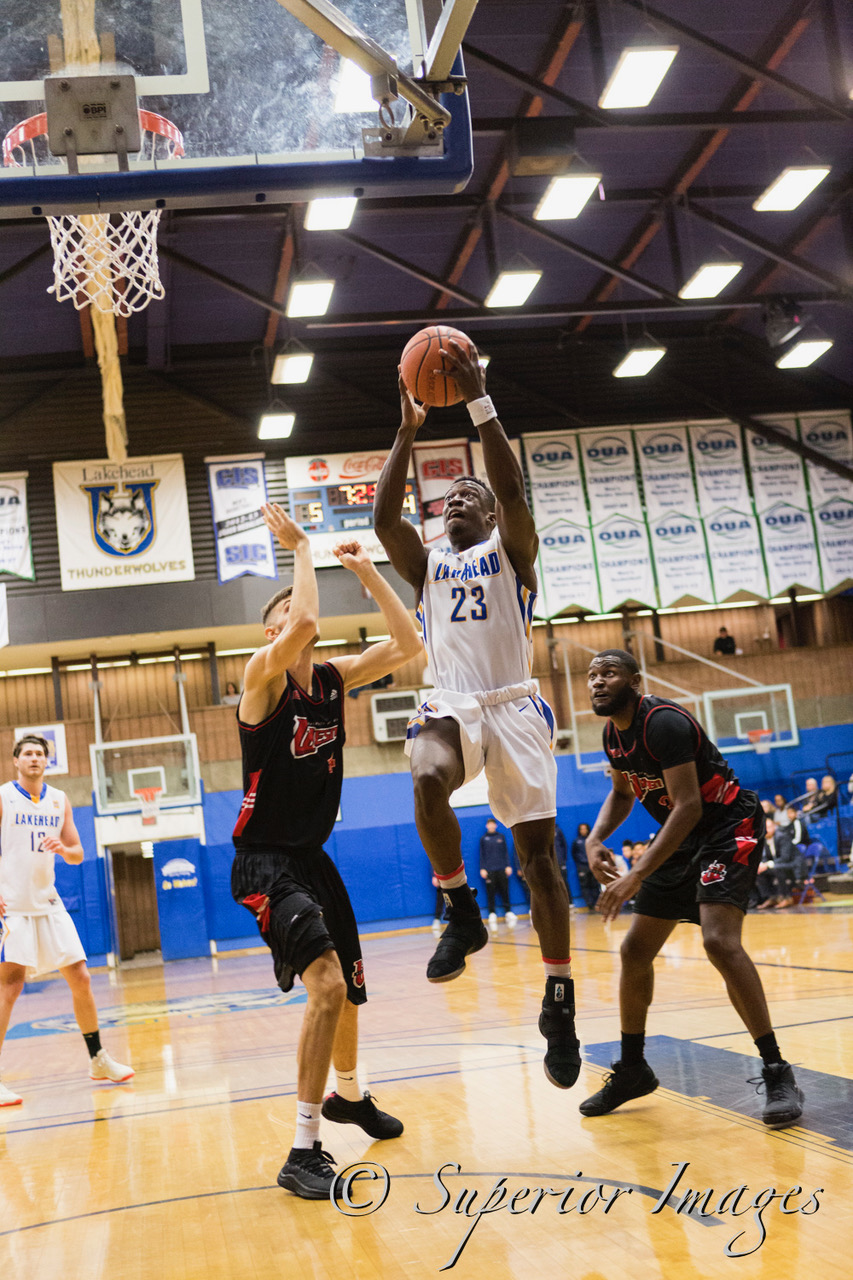 "His athleticism, activity, and instincts are all assets for him defensively at this level," Thomson says, "and hopefully [they will be] at the next level."
Lam meanwhile led the OUA in blocks per game, including a 7-block game against Mac the night prior to Burke's big night. Those 7 blocks were the second most blocks in a game in Canada.
"Lock all year was a monster on the defensive end and most games on the glass," Thomson says. "His length and athleticism allow him to impact the game in a way few players at this level can."
Sixteen of Lakehead's regular-season games saw Lock Lam block 2 shots or more. In five of those games he blocked 4 or more.
"It's pretty impressive to watch from the sidelines," Thomson adds. "His high school coach and LU men's basketball alum Matt Koeslag told us early on that Lock has the best timing of a shot blocker he had ever been around, and it's hard to argue with him on that."
On top of creating his own personal no-fly-zone in the interior, Lam also served as the Thunderwolves' primary rebounder, including a 20-rebound game against Waterloo, the third-most rebounds in a single game in Canada this year.
"When he decides he wants to go get a rebound," Thomson says, "there's not much you can do to stop him from getting it—short of fouling him."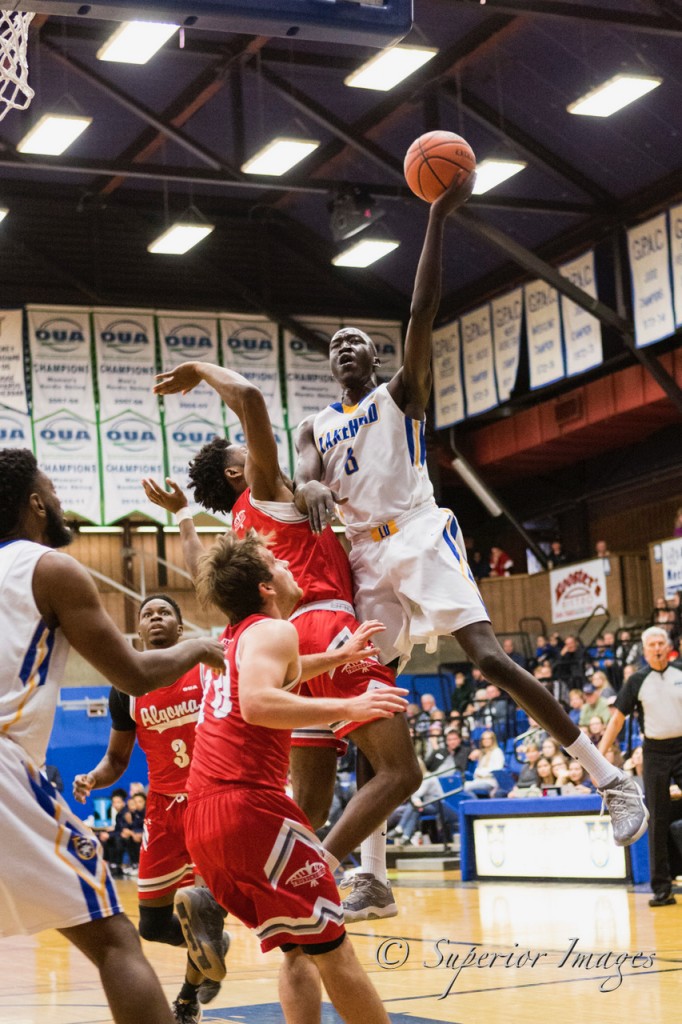 Regardless of those standout efforts, however, the Thunderwolves could not have had their second-half success without a team effort.
"A lot of teams say family but it's pretty surface level," Thomson says. "I think the way these guys bonded and learned to communicate with each other really promoted a family atmosphere. As a group, the guys continued to improve all season and bought in and really started to enjoy playing with each other."
"It's the stuff you don't see," Isaiah Traylor adds, "The way guys enjoy coming to practice—we all enjoy being together. It's the small things."
"As a team, we all mesh well together," Quincy Johnson says. "We have a good group of guys—no egos, no real selfish attitudes."
"Next year I'm looking forward to improving on what we started here in the second half of the season," Johnson adds. "We're losing some guys, but I think we're gonna have a lot of talent coming back—a lot of our core guys are coming back, so I think we can do big things next year."
The Thunderwolves' season ended with a close loss to Brock, who they'd beaten by 20 only a few nights before, but the team is looking forward.
"For us it's all about improving," Thomson says. "I want our guys to continue to improve as players and people, I want to continue to improve as a coach and grow towards the level of coaches that I admire greatly. Next year hopefully we can start the season a bit better but I was ultimately happy with the way we battled through some adversity and figured it out."
Traylor is more vehement in his expectations: "Nothing less than a national championship. I see what the competition is like, I see what we have to work on, and I want it all. I'm not settling for nothing less next year."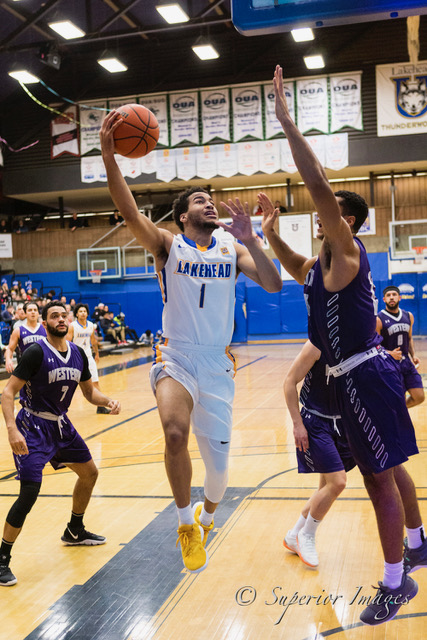 "Next year we're gonna have another good team," Anderson adds. "A lotta guys are coming back. I'm looking forward to it—I want to play, I want to win."
Thomson knows the Thunderdome faithful are ready, that fans of the Lakehead men's basketball team will be behind the squad next season from the first tip.
"The support of the community for the team is huge and it always has been," he says. "Players love to know that their fans have their back and really do want to see them do well and it's more than just coming and cheering at a game; it's when our guys are at a grocery store and run into someone who has kind words either about their play or about their work with their kids through Blaze and clinics or camps that have been run. It's really the best fanbase in the country for USPORTS basketball."
"We love playing with a full gym, right," Anderson adds. "Big crowd, lots of energy—it gets us hyped up, we play better, and it's more fun too."
Quincy Johnson is more direct: "I think we have the best fans in the country."
That's just part of the Thunderwolves experience: a pack sharing a common passion, a common goal. The joy in the feats and successes of a community.
"Things just getting better," Neil-Simpson explains, "bigger and better."