Men's basketball team heads to Brock for first-round playoff game
Lakehead's men's basketball team travels to St. Catharine's on Wednesday to play the Brock Badgers in the first round of the OUA playoffs. The Badgers represent a familiar foe to the Thunderwolves, as the two teams faced off in the final weekend doubleheader of the OUA regular season, splitting the games 1-1. Lakehead closed out the Friday-night match on a run to win 94-74, while Brock won Saturday's game with a clutch three in the final seconds, 73-72. Wednesday's game begins at 8pm.
"It's never easy to play the same team three times in a row, let alone a talented Brock team that's in and out of the top 10 all season," Thunderwolves head coach Ryan Thomson says.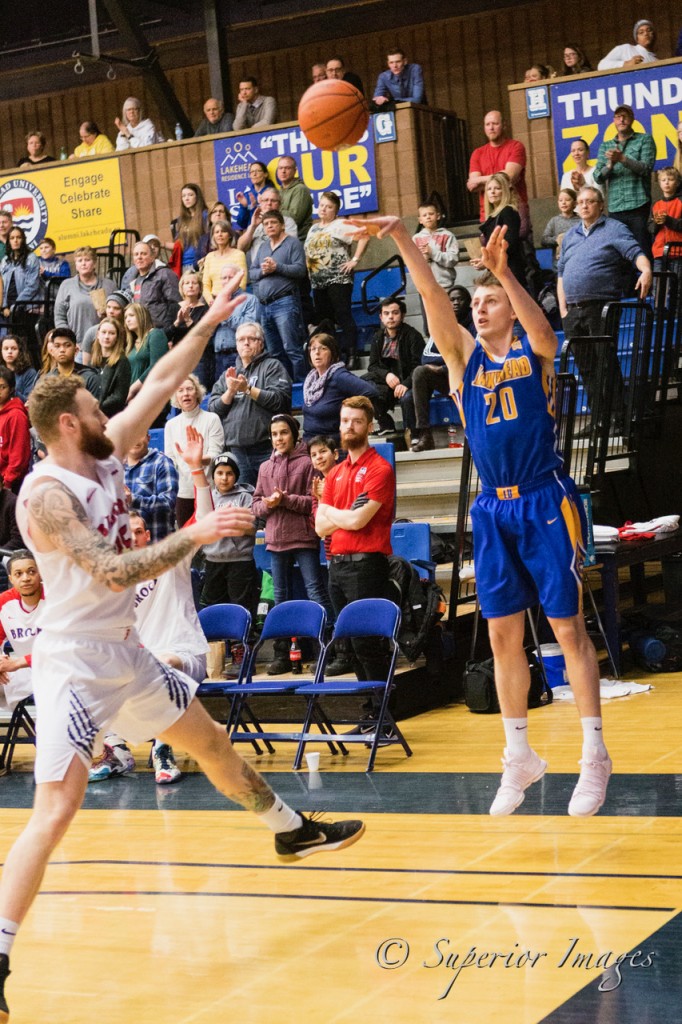 Wednesday's game in the Badgers' Bob Davis Gym does mark new territory, however, as this past weekend's games were played in Thunder Bay. Brock earned the right to host by clinching the OUA West's third seed with a 16-8 record. The Badgers ranked within the unofficial national top 12 teams at six different points in the season, including being named to the USPORTS top ten on November 20th and again on December 4th.
Lakehead finished the season at 10-14, but both teams go into the playoffs with 7-3 records in their last ten games. The Thunderwolves are averaging 84 points per game over the last ten, while Brock has put up a blistering 91 per game—including three 100+ point games—over that same span. Lakehead has allowed 76.2 points per game to their opponents, while Brock has given up an average of 83. Notably, the Thunderwolves held the Badgers to 74 and 73 points this past weekend, the only games in Brock's last ten in which they've scored less than 90.
Friday's 20-point win may bode well for the Lakehead squad, but taking the Saturday-night win and returning home for the playoff game could also give the Badgers momentum heading into Wednesday.
"They made us pay with some of our defensive mistakes on Saturday night in particular," Thomson says, "and we need to do a better job of playing every possession with urgency and finishing it with a defensive rebound."
Brock is currently averaging just over 5 rebounds per game more than Lakehead as a team.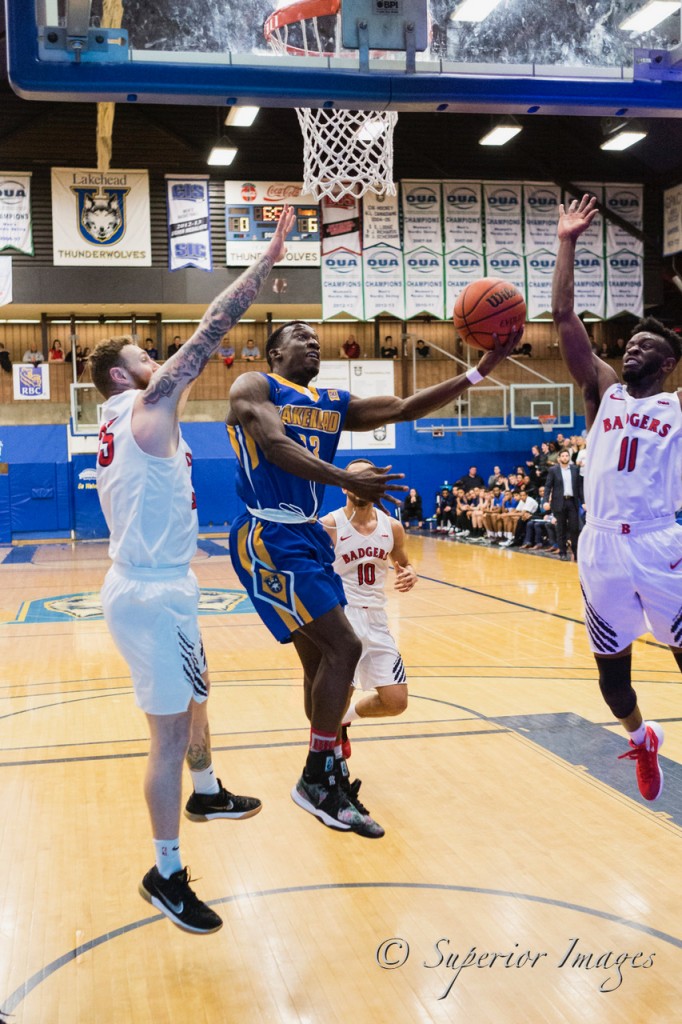 Wednesday's match-up will be Lakehead's return to the OUA playoffs after a one-year absence. Graduating seniors Nick Burke, Michael Poirier, and Jack Bull were members of the 2016-17 Thunderwolves squad, the most recent to earn a playoff spot. This year's playoff squad will lean on those seniors and Burke's 9.8 points, 4.5 rebounds, and 4 assists per game in addition to his steady leadership at the point.
The Thunderwolves will also look to newcomers Lock Lam and Isaiah Traylor: Lam currently averages 10.7 points, 6.6 rebounds, and an OUA-best 2.3 blocks per game, while Traylor averages 16.5 points and 6.1 rebounds per game. Traylor, who was 5th in the OUA in 3-pointers attempted and 7th in 3-point percentage, has been hot recently, averaging 20.8 points per game in his last ten appearances.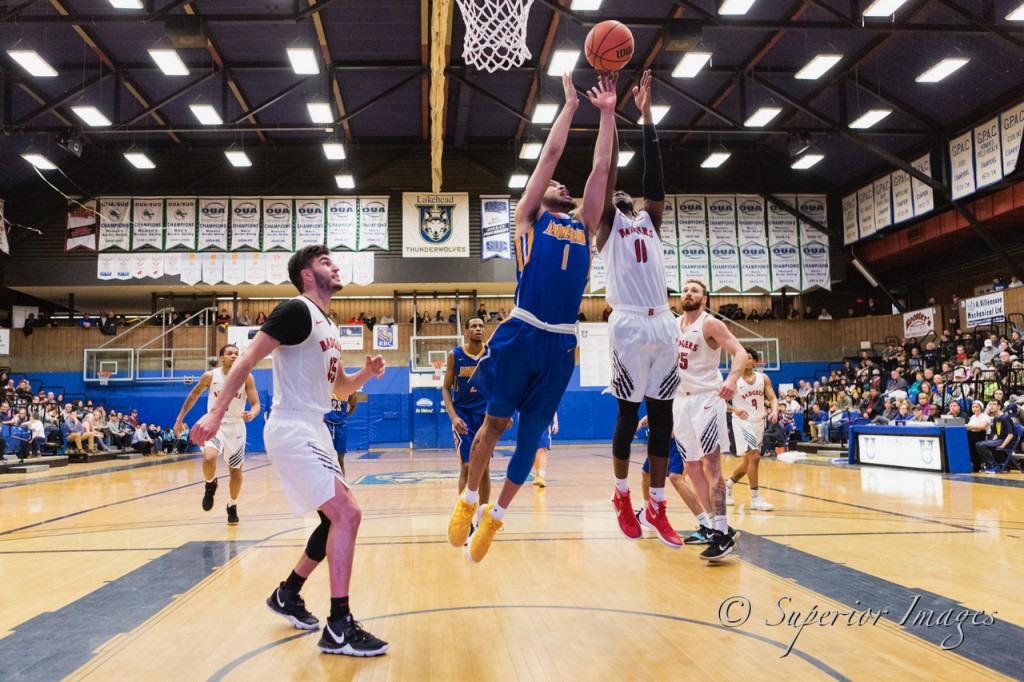 Brock returns to the playoffs after going 1-1 last year. Badgers' senior leaders Cassidy Ryan and Johneil Simpson combined for 44 points and 7 rebounds in last year's first-round win but were held to a combined 10 points and 9 rebounds on 4-23 shooting in their elimination loss.
In this past weekend's games, Cassidy finished with 40 points and 14 rebounds split nearly evenly across the matches, while Simpson finished with 25 points and 11 rebounds, also split evenly between games. Simpson and Ryan averaged 44.7% and 46.2% shooting, respectively, this regular season. Both numbers fell within the top 25 in the OUA. In the two Lakehead games to end the season, however, the Thunderwolves held Simpson to 9-31 shooting overall, or 29%, while Ryan shot 16-39, or 41%.
The OUA playoffs are single-elimination games, with winners moving on to the next round. This week's match presents an opportunity for more success for a Lakehead team that has rallied around head coach Ryan Thomson in his first full season at the helm and has rebounded from last year's 2-22 finish.
As the 6th and final team to make the playoffs, the Thunderwolves may be underdogs heading into Wednesday, but after starting the season 3-12, Lakehead responded by going 7-2, including a 20-point win against Brock; these Thunderwolves have embraced the challenge and are ready to go.
Or as coach Thomson says: "Wednesday should be another battle."
Special note: Thunderwolves fans are invited to a viewing party to be held at the Outpost Campus Pub at Lakehead University the night of February 20th—the all-ages event begins at 7pm, and the game tips off at 8pm.