RBC Athlete of the Month – October 2019
The Lakehead Thunderwolves are very proud to present the RBC Athletes of the Month for October 2019
Cross Country
Colin Warwick
Year: 2
Hometown: Thunder Bay, ON
Program: Applied Life Sciences 
Results
The University of Wisconsin – Eau Claire BluGold Invite: 9th
McMaster Bayfront Open: 43rd
OUA Cross Country Champs: 41st
Coach Kip Sigsworth – "Colin had a breakout race at the UW Eau Claire BluGold race. He demonstrated at that race that he has the ability to excel at the university level and mix it up with the best. Unfortunately, an untimely injury just before the OUA race left Colin at less than his best when it mattered most." 
Rebekkah Pyle 
Year: 3
Hometown: Burlington, ON
Program: Kinesiology 
Results
The University of Wisconsin – Eau Claire BluGold Invite: 3rd
McMaster Bayfront Open: 21st
OUA Cross Country Champs: 21st
Coach Kip Sigsworth – "Rebekkah had a very strong start to the month finishing 3rd in a very competitive race in Wisconsin. At the OUA Championships, she ran tough but ultimately just missed out on qualifying for the National meet by one spot."

Hockey
Tomas Soustal 
Year: 2
Hometown: Sternberk, Czech Republic
Program: Business
Coach Andrew Wilkins – "Tomas has 8pts in 10games so far this season. Tomas has been relied on for key 5 on 5 minutes as well as special team situations on both Power Play and Penalty Kill. In his 2nd season with our team, Tomas has taken on a leadership role and is featured as a top player on the ice every night."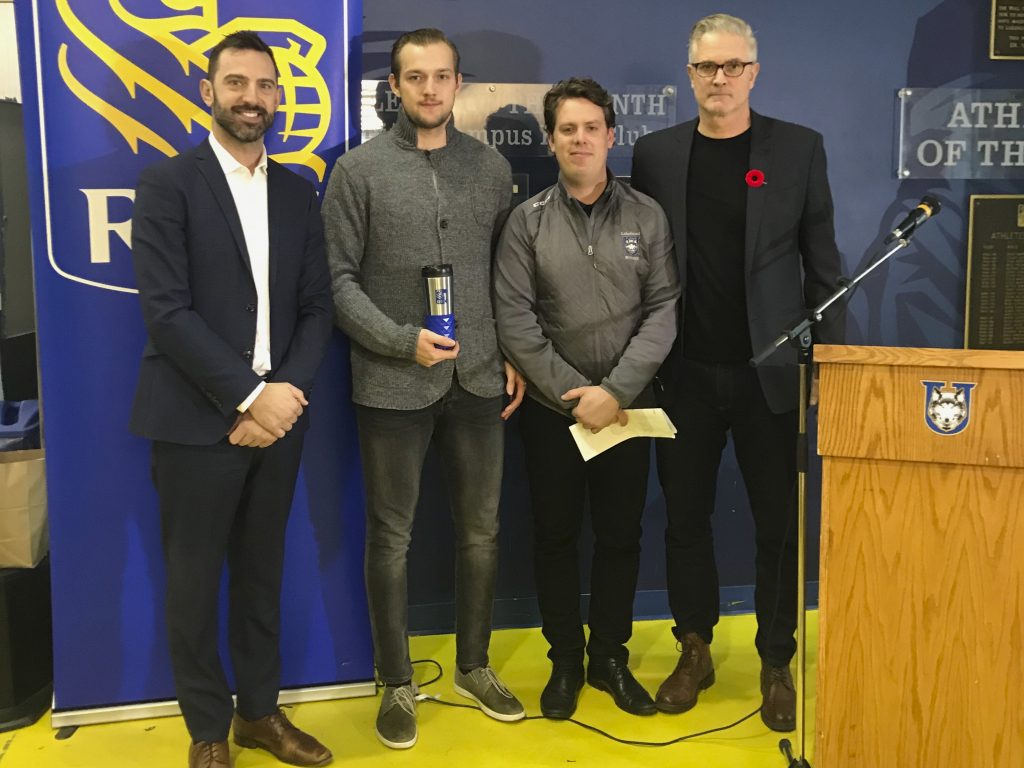 Women's Basketball
Tiffany Reynolds
Year: 3
Hometown: Toronto, ON
Program: Kinesiology 
October Highlights
7 assists, 17 points in her first game as a point guard in 83-78 point win over Manitoba
6 points, 8 rebounds & 3 assists in 67-64 win over 12th ranked Winnipeg including drawing 2 charges vs Winnipeg All-Canadian.
Massive all-around game, near Triple-double in 2 point loss to 2018 USPORTS National Champs
Guards the best player every game
A huge early lead in "top player of practice" acknowledgments
Coach Jon Kreiner – "Tiffany has been our best all-around player in both our games and practices for the month of October. She has been transitioning as a point guard for her first time as a USPORTS player and has been terrific in that role. Her work ethic is inspiring and her impact on each game played immeasurable. When injured, Tiffany has been engaging and impactful as a leader and she has been a tremendous student of the game. We will need that to continue as she is out for the rest of the term with a shoulder injury."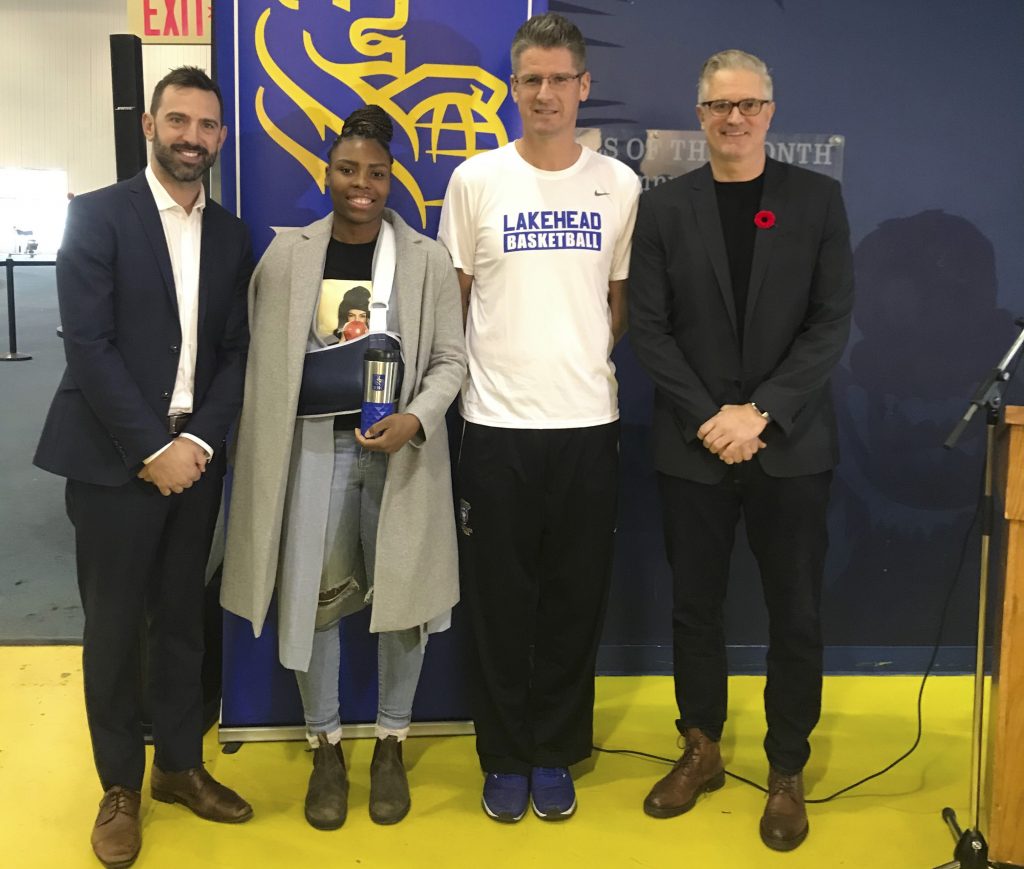 Men's Basketball
Isaiah Traylor
Year: 5 (2nd with Lakehead)
Hometown: Tupelo, Mississippi
Program: General Arts
Coach Ryan Thomson – "In the month of October Isaiah led us in scoring as well as rebounding. The best game of the preseason came against Mount Royal scoring 23 points to go along with 8 rebounds."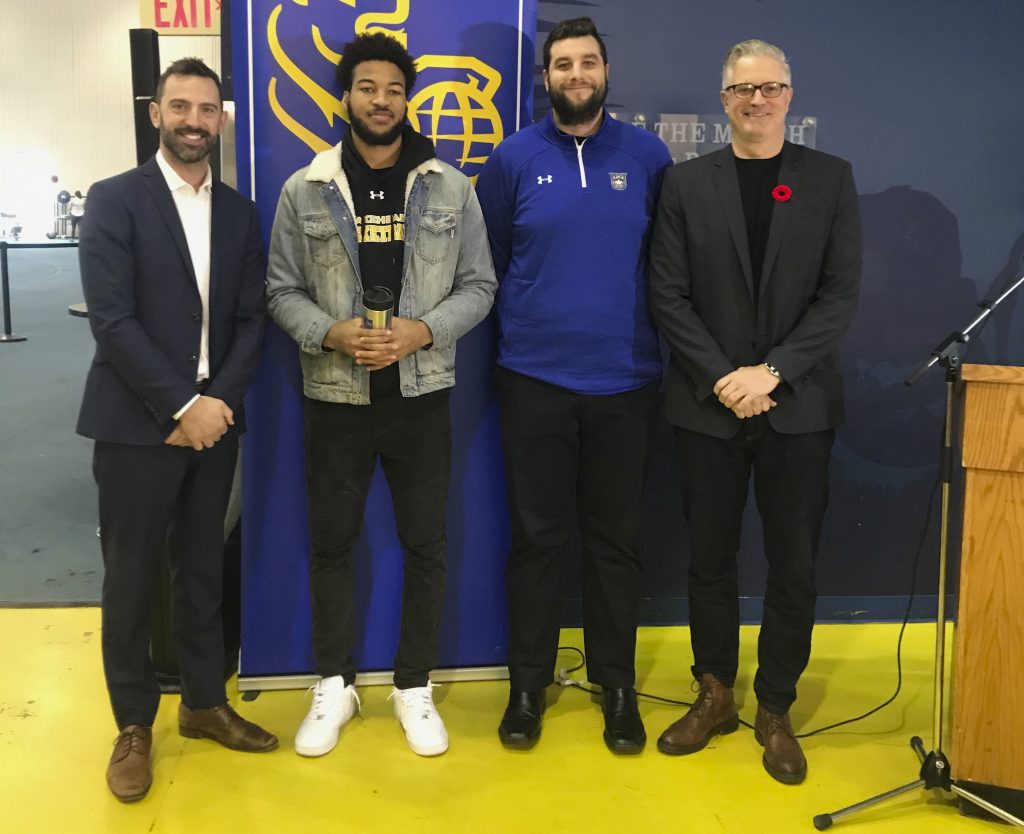 Women's Volleyball
Gillian Hansen
Year: 3
Hometown: Thunder Bay, ON
Program: Psychology
Coach Craig Barclay – "Gillian is a third-year middle on our team who has put in lots of work to get to where she is now. She has stepped into a large role for our team and has shown during the preseason and regular season that she has come to play. Gill worked all summer on offence and defence and in our first four regular-season matches you can see the payoff. She is currently leading the OUA in Stuff Blocks with 10. Block assists with 14. Total blocks with 24 and blocks per set with 1.5. This is a huge accomplishment! She is ahead of the next person by 7 total stuff blocks. Keep up the good work Gill. Congratulations."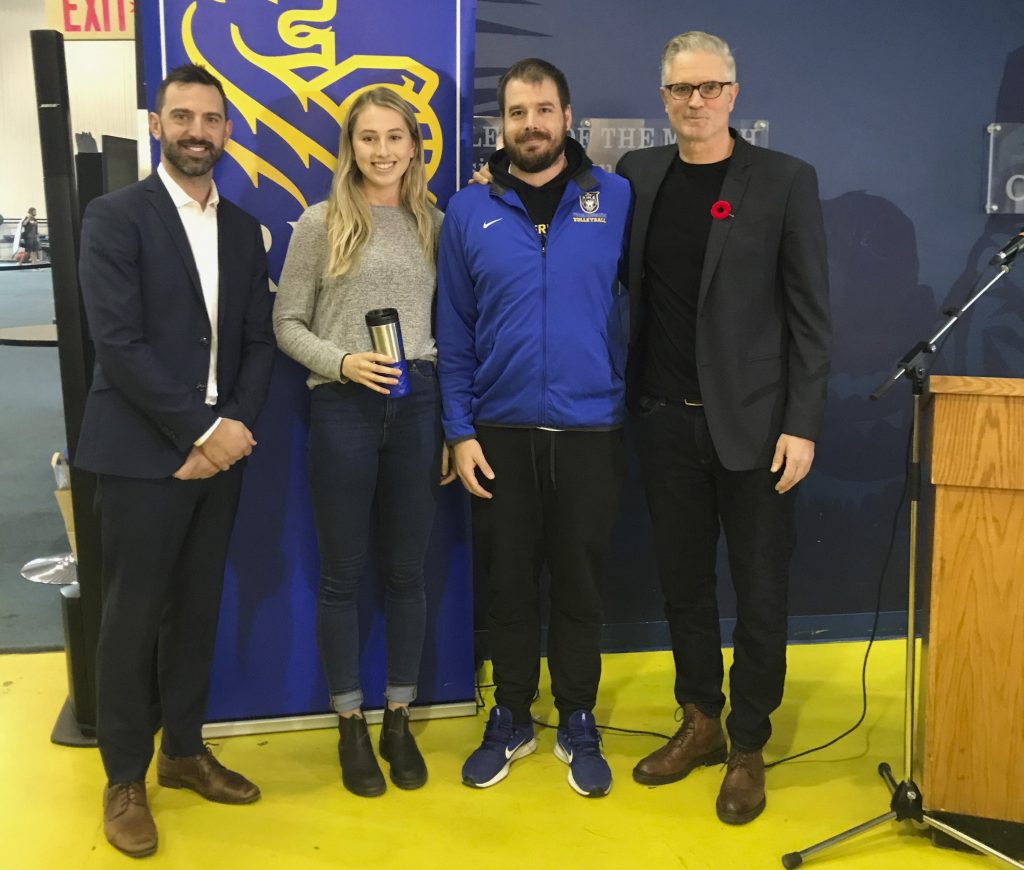 Wrestling
Madison Clayton
Year: 4
Hometown: Thunder Bay, ON
Program: French
Madison is in her fourth year at Lakehead University, before attending Lakehead she went to Hammarskjold High School. Madison placed first at the McMaster Invitational, winning four matches, all by technical superiority.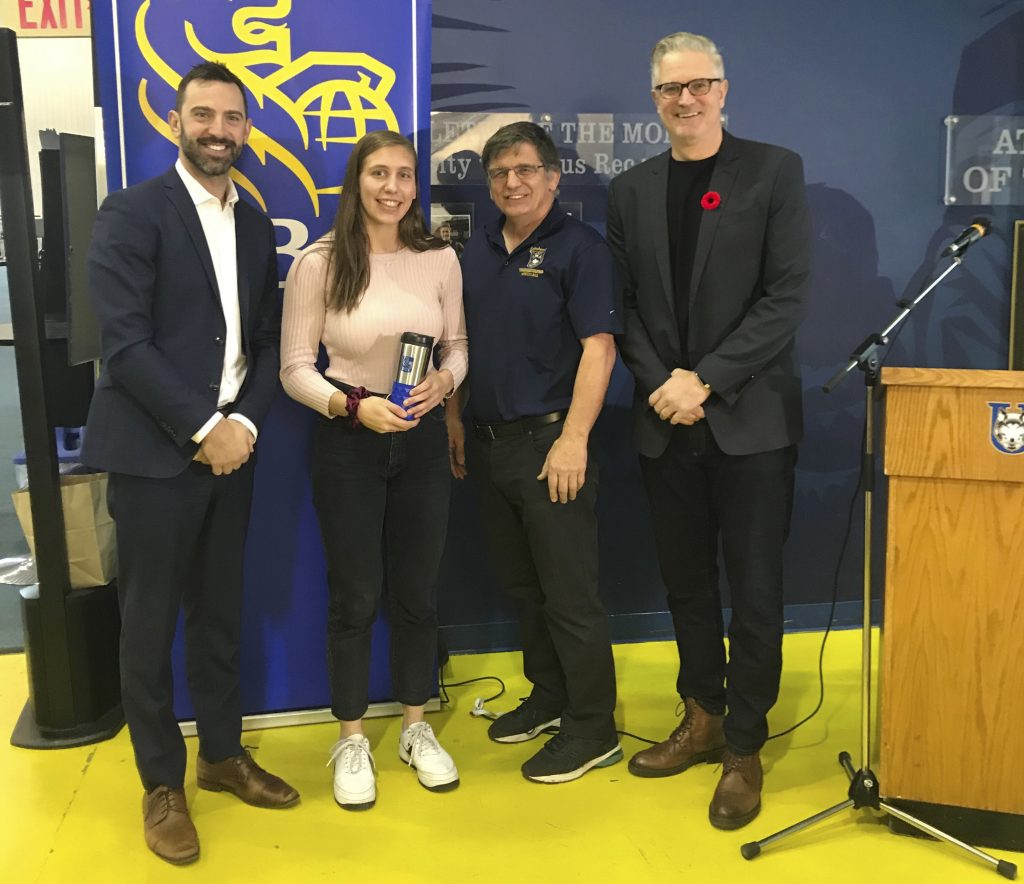 Mike Zale
Year: 1
Hometown: Thunder Bay, ON
Program: Business
Mike placed second in his first University tournament the McMaster invitational, winning three matches before losing his final.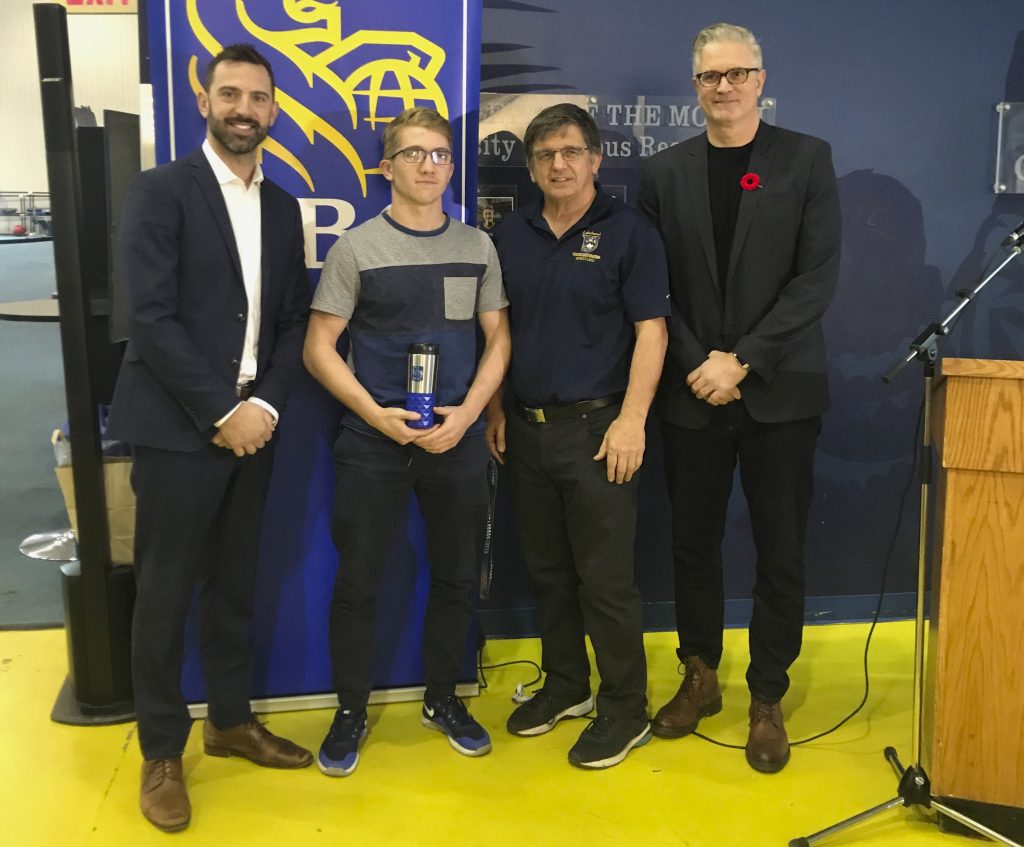 Nordic Skiing
Conor McGovern
Year: 3
Hometown: Winnipeg, MB
Program: Kinesiology 
Coach Adam Kates – "In his third season with the Lakehead Varsity Nordic Ski Team, Conor is looking to build momentum from last year's strong ski season which included a top 10 aggregate at the Canadian National University Championships as well as contributing to the OUA Men's Title. Conor sets a great example for all those around him by being committed to training, working hard at every workout, and showing great sportsmanship. Conor is looking in great shape this season and will be a key factor as we aim to reclaim the National title this upcoming year."
Alannah MacLean
Year: 4
Hometown: Sudbury, ON
Program: Medicine 
Coach Adam Kates – "This veteran has been a part of numerous championship teams in her time with the program, including claiming the National University aggregate title last season and representing Canada at the World Cup finals in Quebec City last March. She brings a positive attitude and hard work ethic to all workouts and is a great team player by motivating and encouraging those around her. Alannah has worked hard this fall and is looking in great shape for the season – she was 1st overall in the Up River Running 25 km running race in Thunder Bay in October and ran the 2019 Scotiabank Toronto Waterfront Half Marathon in an impressive time of 1 hour and 25 minutes. We are looking forward to seeing what she and the lady wolves will accomplish this season."