Runners in Stride Heading Into OUA's
Lakehead's cross country runners will leave it all out on the trails this Saturday at the OUA Championships, hosted by the University of Waterloo.
The races are scheduled for 9am, with the women's 6k preceding the men's 8k race. With the Waterloo region receiving steady rainfall already this week, and 10-15mm scheduled for Saturday, a mudfest has been prognosticated, which, historically, has been to Lakehead's advantage.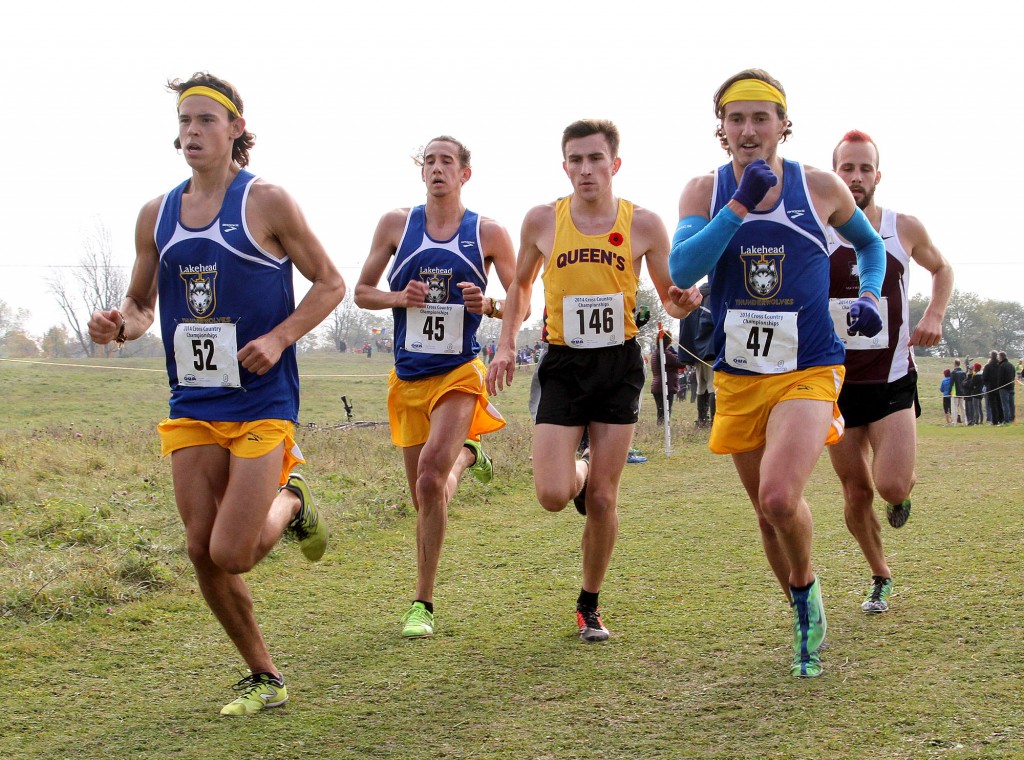 The Lakehead men's team (Ranked #8 in the CIS, #5 in the OUA) is looking to have another strong showing at OUA's, one year after their historic 4th place finish in 2014.
"Both teams are where they need to be heading into the OUA Champs," says coach Kip Sigsworth. "Fitness is great and health is good – now we just need to put things together on the day and commit to making this the best race of the season."
Fourth year veteran Kevin Tree, who has ran with the best of the best in Canada for the past 14 months, has proven he's capable of challenging the fastest in the OUA. Last June he defeated two of Guelph's top runners in a 5km race, albeit on an outdoor track. Guelph has won the men's and women's OUA championships for 10 consecutive years.
"My body feels great, it's been a good season thus far," says Tree. "My goal is to be in the top 3 this weekend."
At last year's OUA's Tree placed 6th, and his teammates Dominique Aulagnon and Dylan Brown placed 9th and 10th. Aulagnon has had another strong season, and although Brown's 2015 campaign has seen its share of challenges, third year Mason Quarrell has stepped up.
Filling out the men's team this weekend will be Trevor Zimak, Gavin Shields, Tyler White and Kenny Groop.
On the women's side, Callie Roelfsema and Natasha Frank are the only hold-overs from last season, but have been complimented in 2015 by Marla Keyes, Kayla Gallo, Heather Maxfield and Jacqueline Desimone, all of whom will race this weekend. Roelfsema and Frank placed 61st and 76th at last year's OUA's.
For the fastest results on race day, visit the Trackie.ca results page.