Three Wolves to Participate in CEBL 2022 season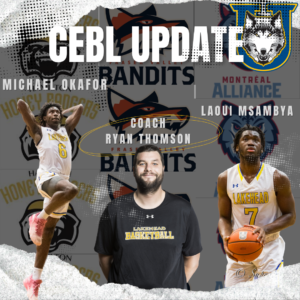 Three Wolves to participate in CEBL 2022 season
The Lakehead University Thunderwolves are pleased to announce that three of its program members will be participating for various CEBL clubs this spring & summer.
Coach Thomson will be joining the Fraser Valley Bandits as an assistant coach for the duration of the CEBL season. "It's a tremendous opportunity to continue to grow and improve as a coach. To get to learn from Coach Taylor, Coach Pearlman and Coach Julius who have such a variety of high level experience is an opportunity I couldn't pass up. I look forward to being able to bring valuable lessons back that I can apply to our program as we look to continue to build a national contender here at Lakehead."
Bandits GM Kyle Julius "It's an absolute privilege to be able to provide Coach Thomson with the development opportunity of working with the Bandits this summer. Coach Thomson has an extremely impressive and versatile resume combined with the success he's had at Lakehead we feel very fortunate to be able to add him to our staff. It means a lot to me to be able to do business with Lakehead University and help the growth and development of their basketball program. Lakehead has such a special place in my heart and means so much to my family it's an absolute honor and privilege to be able to help Coach Thomson and their program. "
Michael Okafor, a 6'4 guard from Toronto, Ontario, will be competing for the Hamilton Honey Badgers after being drafted in the second round of the CEBL U-Sports draft on April 19. Okafor comes off a terrific season with the Wolves which saw him named Lakehead's Male Athlete of The Year, Co-MVP of the Lakehead Men's Basketball team and a second team OUA West All-Star holding averages of 19.2 PPG, 8.2 RPG and leading the country in steals at 2.9 per game.
Okafor on the opportunity. "The opportunity to play in the CEBL means a lot not only for myself but for Thunder Bay and Lakehead University. I'm happy to be a part of the Honey Badgers organization and I'm thankful for my teammates and coaches for trusting in me and pushing me to be better while building my confidence, and helping put me in the position I'm in now"
Laoui Msambya, a 6'0 point guard from Quebec City, Quebec, will be competing for the newly formed Montreal Alliance. Signed as a U-Sport player following the draft, Msambya had a terrific return to the court in the 21-22 season, highlighted by averages of 13.7 PPG, 4.7 RPG and 5.3 APG, while also sharing Co-MVP honors with Okafor.
Msambya on the opportunity. "I am really grateful for the opportunity to play in the CEBL this summer. I will have the chance to represent not only Lakehead University but also my hometown of Quebec City during this amazing experience. I would also like to take the time to thank my teammates and coaches, I could not have been in this position without them."
The CEBL season will begin on May 25th as Okafor's Honey Badgers host Msambya's Alliance. Follow along with the action all season long with CEBL+.