Thunderwolves Cross-Country Team Picks Up Impressive Top 5 Finish
The Lakehead University Thunderwolves Cross-Country Running team competed in their final OUA Season competition this past weekend at the Championship preview Bayfront Open in Hamilton, ON. The Lakehead Men's Cross-Country team finished 5th overall in a highly competitive field.
Lakehead finished with a total team score of 155 points. The Thunderwolves' top-5 runners finished in the top 50, led by senior Connor MacIntosh, who finished an outstanding 9th overall. The four other scorers for Lakehead were Jett Dobson (29th), Leif Buxton (32nd), Will McDonough (42nd) and Andrew Lehman (43rd).
Lakehead's Top-5 runners each achieved personal best 8km times at this competition!
"Placing 5th in a deep OUA field is an amazing accomplishment for this group and we couldn't be more proud," said Head Coach Joe McDonough. "This group has been working hard all season and Dave has been pushing them to another level — the group knew where they had to be in order to qualify for USports, and every week they are inching closer to that goal."
Katherine Lucas, who leads Lakehead's women's Cross-Country team finished 79th, also achieving a lifetime personal best 8km mark. "This was Katherine's best race as a Thunderwolf thus far, and we are extremely proud of her development as the XC season end approaches" said Coach McDonough.
Connor MacIntosh – 9th (24:58 *PB)

Jett Dobson – 29th (26:00 *PB)

Leif Buxton – 32nd (26:05 *PB)

Will McDonough – 42nd (26:32)

Andrew Lehman – 43rd (26:36 *PB)

Aiden Webster – 57th (27:21 *PB)

Colin Warwick – 67th (28:23)

Nicholas Lightwood – (28:27 *PB)

Katherine Lucas – 79th (33:22 *PB)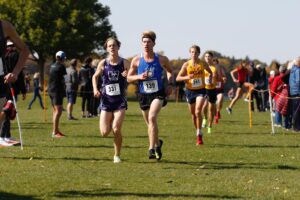 Photo Credit: Jayson Childs