Thunderwolves go to Bearskin Lake First Nation with Reach Up! And Aboriginal Mentorship Program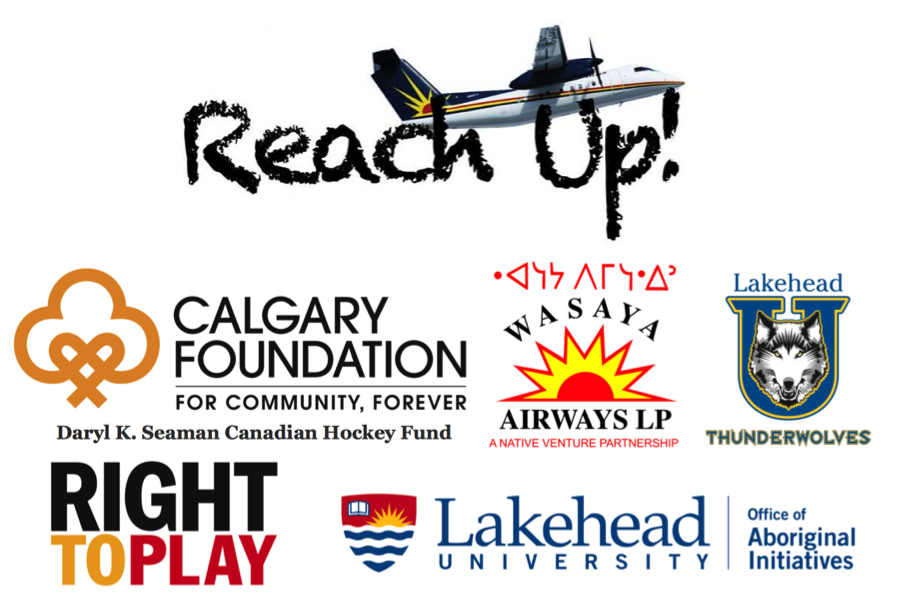 The Lakehead University Aboriginal Mentorship Program and Reach Up! Northern Community Sport and Leadership Program traveled to Bearskin Lake First Nation on June 15-17 to spend time with youth in the area.
The Aboriginal Mentorship Program (AMP) was established at Lakehead University in October 2013. Through AMP, Lakehead University mentors are able to connect with Indigenous students in Northwestern Ontario to foster a passion for life-long learning. It is an investment in Indigenous youth built on trustful partnerships to inspire and facilitate educational opportunities, employment options, and the building of capacity and sustainability within northern communities.
The purpose of the Aboriginal Mentorship Program is to increase Aboriginal high schools students' interest in a wide variety of educational subject areas; to present them with future career opportunities; fulfill their educational needs, and to provide them with educational support.
On the most recent trip, Thunderwolves Matthew Edwards (men's basketball), Jessica Korchak (women's volleyball), Kareem Poonah (Orillia soccer) and Brett Wolframe (men's hockey) along with Reach Up! Program Coordinator, Amanda Stefanile, and Aboriginal Mentorship Program Coordinator Lisa Harris all participated and enjoyed their interaction with the community.
"The smiles that we were able to bring to the kids faces by playing with them and just being there was more than enough to make me appreciate the chance to go." – Kareem Poonah, Orillia soccer player
Held at Michikan Lake School, 50 youth of all ages participated in multiple activities including soccer, basketball, floor hockey, volleyball, baseball, other fun games, and activities. The AMP program also did Indigenous Cartography and Ozobots in which students are shown alternative map making techniques and talk about the application and development of indigenous maps. Students were encouraged to create their own creative map from memory or imagination and then, using Ozobots, tell a story.
"The youth mentorship program was excellent to have in our community as the children who participated has a great time and the athletes showed amazing character with them. Thank you to Lakehead University and the other funders for sponsoring the three-day event." – Philip Bottle, Michikan Lake Education Authority Board Member, and Choose Life Land Based Coordinator
The last time the Wolves went up to Bearskin Lake First Nation was in March 2013 and, with the financial support of Wasaya Airways and The Calgary Foundation, the Thunderwolves were able to make the trip again and make new memories with the youth of Bearskin Lake.
"My favorite part about the weekend was interacting with the children and not only providing them with learning activities and games but also getting the chance to learn from them. It was a great educational opportunity and a very rewarding trip. I hope more athletes team up with Reach Up! and receive the same gratification that I did." – Brett Wolframe, Men's Hockey
"The Aboriginal Mentorship Program (AMP) was thrilled to join Reach Up during their very successful Northern Community Sport & Leadership Program in Bearskin Lake First Nation. Not only was it a fantastic and fun opportunity for us to provide Indigenous-based educational activities with youth; we learned more about Reach Up's motivational programming and the inspiring athletes who make the program such a positive experience. I see tremendous potential for similar AMP-Reach Up partnerships in the future." – Lisa Harris, Aboriginal Mentorship Program Coordinator
Amanda Stefanile, the Reach Up! Coordinator would like to express her sincere gratitude to both Wasaya Airways and the Calgary Foundation, Daryl K. Seaman Fund, for their support with the Reach Up! program.
Sharon Smith-Baxter, Manager of Communication and Marketing says Wasaya Airways is proud to be a part of such a great program.
"Wasaya Airways supports meaningful programs to promote and inspire healthy lifestyles for youth in our First Nation Communities. Working with the Reach Up! Program has been a wonderful experience. Allowing the youth to learn alongside inspirational role models in their own community is an absolutely amazing opportunity. Youth in remote communities, unfortunately, do not have the same opportunities as we do in an urban setting to enjoy things like live sporting games or sporting lessons. For the youth in the north, having the LU Athletes visit them in their own community is something really big to look forward to."