Thunderwolves Men's Basketball Welcomes Nas Roberts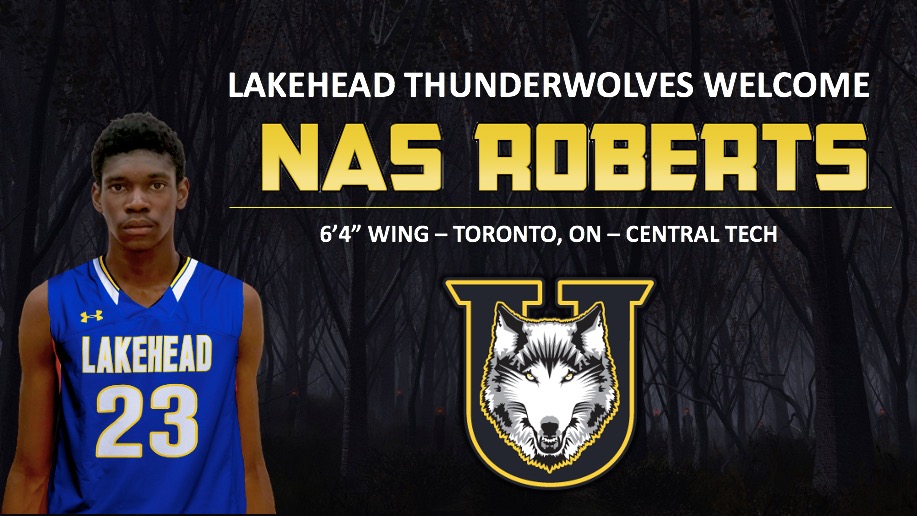 Lakehead Men's Basketball is proud to announce the commitment of Nas Roberts of Toronto, Ontario. A member of the 2019 graduating class, Nas was the 79th ranked player by North Pole Hoops.  A 6'4 wing, Nas competed with Central Tech in the OSBA during the 2018-2019 season.
"Nas is a fantastic kid who works hard, wants to improve as a player and is focused on getting his degree. He's a good athlete who will be able to defend multiple positions and provide some versatility offensively. We're excited to get on the court and help Nas continue to improve as a player" said Coach Thomson.
"It was a tough decision but Lakehead is a top ten university and academically they will allow me to graduate with a valuable degree.  The basketball team is top tier, the coaches are very supportive and have the capabilities to help me improve. Lakehead is far from home but will increase my focus level and commitment to basketball and academics without distractions." said Nas. 
Nas played AAU for former Thunderwolves guard Ryan Marrast with Peoples Basketball. Marrast, who competed for LU during the 05-06 season, had this to say about Nas. 
"Nas has a unique skill set for a guard with an uncanny ability to block shots and finish. He's left us wondering a few times if that actually just happened. He's never been afraid of hard work and keeps a calm, cool and collected demeanour on and off the court."