Thunderwolves Volleyball adds Kristi Chynoweth to coaching staff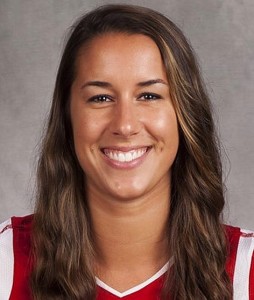 The Thunderwolves are pleased to welcome Kristi Chynoweth to the Lakehead University's Women's Volleyball coaching staff for the 2019-2020 season. Chynoweth began her volleyball career in Florida, playing as a starter in the high school state finals in 2011 and earning Under Armour All-American honours as well as a selection to the Broward County All-Star team. She was also a three-time participant at the national Junior Olympics with her club team and helped her squad to a fifth-place finish in the ultra-competitive AAU Open Division in 2010.
Chynoweth was recruited by Bradley University in Peoria, Illinois as an outside hitter and spent 2012 to 2015 playing at the Division I collegiate level earning the Missouri Valley Conference Honour Roll in her senior year.
After two years in Denver, Colorado, Chynoweth moved to Thunder Bay to further her marketing career in Canada and enjoy the recreation the city and surrounding area provides. Chynoweth's mother (Cathy Keenan) is originally from Thunder Bay and played her first year of collegiate basketball at Lakehead University before heading to the University of Calgary to finish her career.
"I'm excited to be joining the Lakehead University women's volleyball coaching staff as I have been playing the sport at a competitive level for over 10 years. Thunder Bay has such a great volleyball community and I'm really looking forward to sharing my passion and experience with both coach Craig and the team. My focus will be upon developing individual skills, both mental and physical, so that the team can reach its full potential at the collegiate level," said Chynoweth.
Chynoweth brings depth and experience to the Lakehead University volleyball team and she looks forward to assisting the coaching staff in the team's development and maturity.
"We are very excited to have Kristi join the Thunderwolves Volleyball family. Kristi brings a wealth of knowledge and experience to our program," said Head Coach Craig Barclay.
"We are excited to get her into the gym and familiar with the team."