Thunderwolves Volleyball Announces Commitment of Manitoba Standout Setter, Payton Leflar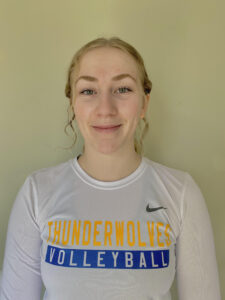 Thunderwolves Volleyball Announces Commitment of Manitoba Standout Setter, Payton Leflar
The Thunderwolves women's volleyball program is pleased to announce that Manitoba standout setter Payton Leflar has committed to competing for the Thunderwolves beginning this 2022-23 season. Leflar joins the Thunderwolves after winning a Silver medal with her Cobra's Volleyball Team at the 2022 Manitoba Provincial Championships. With a graduating All-star Award and numerous Athlete of the Week nods, Payton continues to build off a successful athletic career at the high school and club level.
Coach Charlotte Sider Quotes:
"We are very excited to have Payton join our team this fall!" 
"She is a strong competitor, very hard worker, and outstanding student-athlete on and off the court. Her drive to get better, passion for the sport, and talent will make an instant impact on our team."
Payton Leflar Quotes:
"I chose to be a part of Lakehead's program because of the inviting atmosphere and to have a different experience in another community."
"I'm looking forward to developing my skills as an athlete as well as creating life-long friendships."
Payton will be joining the Thunderwolved for the 2022-23 season while completing the Bachelor of Science (Mathematics Major) Degree Program.