Thunderwolves Volleyball welcomes two new recruits
Lakehead Thunderwolves Women's Volleyball is excited to announce that Alexis Cancade of Brandon, Man. and Jaime Couvrette of Washago, Ont. will both be joining the team in the fall.
"We are very excited to have Alexis join our team. Alexis comes from a very good club and has a high level of experience playing for Team Manitoba," said Thunderwolves head coach Craig Barclay. 
"Alexis is extremely quick and athletic, she is fast to the ball, and delivers a very consistent second contact. Her speed and knowledge of the game will be a huge help for our team."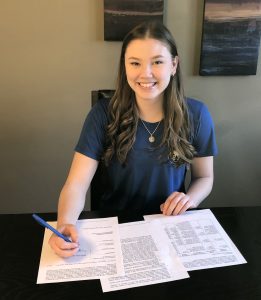 Cancade is a 5'7 setter and defensive specialist for the Vincent Massey Varsity Volleyball team, Cats Volleyball Club and Team Manitoba. 
"I chose Lakehead because I believe it will offer me the best success for both my academic and athletic growth," said Cancade. 
"I am very excited and eager to be joining the team this coming season and cannot wait for this new opportunity."
Cancade was named a 2019 MHSAA Provincial All Star, Volleyball Manitoba Graduating All Star, Volleyball Manitoba Graduating All Manitoba Team member, and Volleyball Manitoba Provincial Championships All Star. She is also a honours student who will be joining Lakehead's Biology program. 
"We are also excited to welcome Jaime to the Thunderwolves family. Jaime is extremely physical and brings some height to our program," said Barclay. 
"She has been trained very well by her club coaches. She brings a large block and power to the middle position."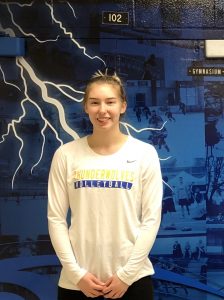 Couvrette, a 6'1 middle, has been the captain of the Twin Lakes Secondary School volleyball and basketball teams for the past two seasons, as well as a co-caption for the Orillia Suns volleyball team. 
"My visit to Thunder Bay was unforgettable. The landscape surrounding the campus is absolutely stunning and I cannot wait to explore the provincial parks and trails that surround both the university and beautiful downtown," said Couvrette. 
"It is also difficult to put into words the amount of love and acceptance that the faculty and the volleyball girls at Lakehead showed me during my visit. They truly are a terrific group and I cannot be more excited to join them next fall on the court."
In her grade 11 year, Couvrette was awarded Senior Female Athlete of the Year, MVP of the Senior Girls Volleyball Team and a Volleyball Memorial Award. As a honour roll student, Couvrette has been accepted into Lakehead's Kinesiology program.
"Both of these athletes had great visits and left a great impression on the team and the coaching staff," said Barclay. 
"We are very excited to welcome them to our program in September."