Thunderwolves Wrestling Welcomes Two St. Ignatius Wrestlers to 2020 Recruiting Class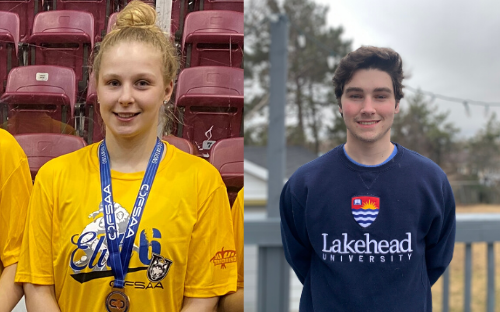 Lakehead Wrestling is pleased to announce that Ashlyn Sweizter and Adam Lafroy will be joining the Varsity Wrestling program this fall. Ashlyn and Adam are both graduates of St. Ignatius High School, where they were coached by Lakehead Alumni Shane Comeau. 
Ashlyn joins a large group of Lakehead Wrestling club members that have wrestled through the system from an early age, and has experience working with Thunderwolves head coach Francis Clayton. "She will make a smooth transition to University Wrestling," says Clayton. "She has proven to be a hard worker and is committed to the sport." 
"I'm excited to be a varsity wrestler at Lakehead University and am looking forward to the upcoming season. I am grateful to be able to represent my hometown of Thunder Bay. The excellent coaching staff and my new teammates will help me to maximize my potential as a student athlete. I am very thankful for my past coaches, teammates, parents and others who have helped me along the way to this point in my athletic career." says Ashlyn.
"Ashlyn is going to be a great asset to the Thunderwolves wrestling program.  She has a work ethic and commitment to her academics and wrestling that is second to none.  She will be sorely missed as part of the Falcon wrestling program.  She has been successful at every level that she has wrestled and a jump to the university level should be no different for someone as committed as her." says Comeau. 
Ashlyn will be enrolling the Biology program here at Lakehead, and is hoping to focus in Animal Sciences.
Lakehead Wrestling would also like to welcome Adam Lafroy to the program. "Adam will fit in quickly with the team. He is a hard worker with a good attitude." says Clayton. Adam Lafroy has also trained with the Lakehead Wrestling Club previously, under Clayton's guidance.
"Adam Lafroy is perhaps one of the best teammates that any program could hope to have.  The Falcon wrestling team has enjoyed great success over the years and one of the reasons is the great leadership from senior wrestlers," says Comeau. "Adam is among the very top leaders that the St. Ignatius wrestling program has ever had.  He is a completely selfless and committed leader, as well as a ferocious competitor."
"I am extremely excited and motivated to train and compete with Lakehead University in the fall." says Adam.
Adam will be majoring in Math during his time at Lakehead.