Tree Places 14th for Canada at PanAm Championships
Author: Hugh Mullally
Lakehead running all-star Kevin Tree competed in his first international race, representing Canada's senior men's team at the Pan American Cross Country Championships.
Running in the relatively warmer climes of Colombia, Tree ran tough in temperatures about 50 degrees warmer than Thunder Bay's February norms.
Tree's time of 29:57 in the 10km race was good enough for 14th place in the field of 53 runners from Canada, the U.S., Colombia, Ecuador, Venezuela, Puerto Rico and Jamaica.
The Canadian team placed 4th behind the U.S., Ecuador and Colombia.
"I started conservatively and felt strong the first 2 of the 6 laps," said Tree in a statement via email on Sunday. "From then on it was an absolute grind fest. It was definitely well over 30 degrees by the time we raced at 10:15am, but I stayed strong and moved up well in the second half of the race."
It was a good step forward for Tree, who went into the race as the fifth-ranked runner on the Canadian senior men's team, but came out as the second Canadian across the finish line.
Coach Kip Sigsworth adds:
"Great race by Kevin today. I was very worried about the heat, 33 degrees plus humidity, heading into it. This is just something that we weren't able to prepare for here in Thunder Bay in February. I'm proud of the way Kevin handled his first international experience, he ran smart and tough in really challenging conditions. He's running running really well right now."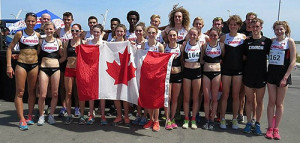 (Kevin Tree -back row, second from the left- with Team Canada in Colombia)