Wrestling Team Adds Local Heavyweight to Roster
Mike Haskell of St Pat's HS brings a record of provincial achievement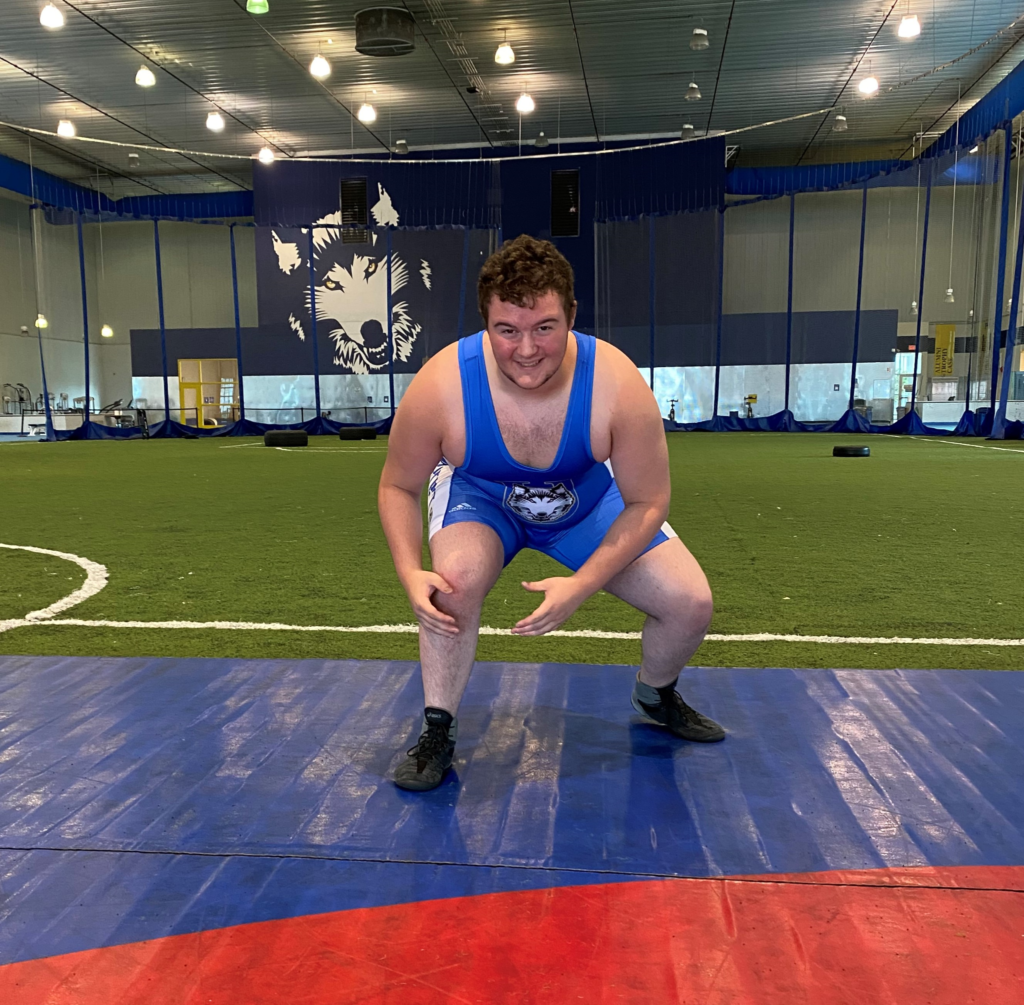 August 16th – Thunder Bay ON  – Lakehead Athletics is pleased to announce that Lakehead Wrestling Club and St Patrick's High School graduate Michael Haskell has committed to the Thunderwolves and Lakehead University, where he will begin a degree in Environmental Management this fall. 
"Mike will be a good addition to our program, he is a legitimate heavyweight with a good attitude and work ethic," comments wrestling coach Francis Clayton.
Haskell boasts an impressive resume thus far, with five provincial gold medals from grades 7 to 11, and is a two-time MVP of the Lakehead Wrestling Club. He has also placed 2nd at OFSAA championships and 3rd at Cadet Greco-Roman Nationals.
"I chose Lakehead because they have a great wrestling program," Haskell begins. "And they've been very welcoming to me for the past couple years while I've trained with the club team; it all enticed me to come to Lakehead."
Haskell will be in good company in joining the 'Wolves, with whom he has trained and worked with at camps and clinics over the years. In doing so he has developed a reputation as a hard worker with a positive attitude.
"Mike will be a very good addition to our team. He has always been very dedicated and never complains about hard work," heralds wrestling veteran Madison Clayton. 
"Mike has been training with the University team for quite a while now. He's taken part in off-mat training as well and has proven to be open to change in order to improve. He will be a much needed asset to the team as a heavyweight, adds current Thunderwolf Abraham Mfonpa're Ntienjem.
Craig Hardy, Mike's high school coach and Lakehead wrestling alumni, praises Mike's decision, saying, "It's an exciting time for Thunderwolves Wrestling and Michael as he embarks on the next journey in his academic and athletic career."
St. Patrick's has an impressive history of sending strong wrestlers to Lakehead. Other standouts include Marco Palermo, Jacob Luczak, Nick Zuback, and Preston Mikulasik who have carried on the tradition of excellence on the mat for Lakehead.
Coach Hardy continues about Haskell's attributes, saying, "A strong work ethic, self-discipline, and his coach-ability are just a few of the great attributes that describe Haskell, who personifies the adage, 'hard work beats talent, when talent doesn't work hard.'"
"With continued passion for the sport, the courage to put it all on the line, a vision with the end in mind, and an ability to overcome challenges, Haskell's future looks bright with the Lakehead University Thunderwolves under the tutelage of coach Clayton," adds Hardy.
Michael's father Gary also supports his son's decision, as he recalls his journey from a youngster to today.
"Michael's start to the sport of wrestling at the age of 10 was a bumpy one…in the first couple years he didn't win a match. That all changed once he discovered how the mechanics of his body could benefit him. He takes his knowledge and implements it on the mat to put his all into anything he does. We have watched him grow and excel over the years, in not only skill but in confidence and strength of his abilities as a wrestler and a person."
Gary continues, "He has gained a wealth of knowledge from the many coaches that have helped to mold him into the determined, humble and talented wrestler that he has become. He also feels like he's part of the Lakehead family."
Justin BeauParlant, Lakehead Assistant Coach and a decorated Lakehead heavyweight in his own right, comments, "The Lakehead Wrestling Club is super excited that one of its own will be joining the Thunderwolves program.  Mike is another great example of Thunder Bay and Lakehead producing heavyweight wrestlers."
"From Olympians like Steve Daniar to National University Champion and MVP Preston Mikulasik, Mike Haskell has already demonstrated amazing potential and produced excellent results which can lead him to adding to that legacy.  As a  heavyweight myself I am elated that Mike will be carrying that torch in the years to come."
Written by: Hugh Mullally