Thunderwolves VS OUA Championships
October 28, 2017
8:00 am - 5:00 pm
Thunderwolves
OUA Championships
N/A
N/A
Game Review
Photo credit: Kevin Jarrold
The Lakehead Cross Country team competed at the OUA Cross Country Championship today at the University of Windsor.
Rebekkah Pyle received female rookie of the year, finishing 21st overall in a time of 29:33.9.
"Rebekkah was great today.  She has done everything she has been asked to do since joining the team and is a very tough competitor.  Today she executed the race plan and moved up each lap.  OUA Rookie of the Year is a nice reward for all the effort and focus she has invested into the year."- Coach Kip Sigsworth
Paige Kobe (Toronto, ON) finished 53, crossing the finish line in 31:21 and fourth-year Kayla Gallo (Sudbury, ON) finished in 32:15.
On the men's side, Derek Patterson (Thunder Bay, ON) led his team with a time of 32:13.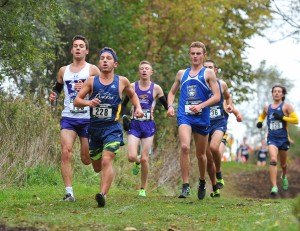 Coach Sigsworth:
"While finishing 10th and 11th in the team results isn't where these teams have been in the past or where we want to be, we have started something this year that bodes well for the future.  The women as a team competed well and gave it what they had on the day.  With 4 of our top 5 runners being rookies and the mindset this group has shown over the last two months I am excited to see what they can do with a full year of training and racing under their belt.  The men have more work to do but they have steadily improved over the season and seem hungry to be better.  They too are young and will grow from this experience."
Overall, the Queen's Gaels women and Guelph Gryphons men were crowned champions.
*more photos to come*
LAKEHEAD RESULTS
(place, athlete, time)
21, Rebekkah Pyle, 29:33
53, Paige Kobe, 31:21
62, Kayla Gallo, 32:15
65, Hailee Morisseau, 32:18
84, Nicole Tamming, 34:02
38, Derek Patterson, 32:13
62, Connor MacIntosh, 34:21
65, Louis Moreau, 34:49
69, Taij Mann, 34:59
86, Waldon Moreau, 36:58
FULL OUA RESULTS
WOMEN'S RESULTS (6 km)
Team standings
Queen's, 37 points
Toronto, 62
Guelph, 79
McMaster, 100
Laurentian, 131
Western, 151
Waterloo, 209
Wilfrid Laurier, 223
Windsor, 228
Lakehead, 284
Brock, 324
Nipissing, 349
Trent, 394*
Ryerson, 394*
*Trent wins the tiebreaker over Ryerson
Individual honours
MVP: Branna MacDougall, Queen's
Rookie of the year: Rebekkah Pyle, Lakehead
Student-Athlete Community Service Award: TBD
Coach of the year: TBD
OUA first team all-stars (top 7 finishers)
Branna MacDougall, Queen's, 27:19.5
Kristina Popadich, Western, 27:22.8
Sasha Gollish, Toronto, 27:36.3
Amy Stephenson, Queen's, 27:43.3
Claire Sumner, Queen's, 27:46.1
Lucia Stafford, Toronto, 27:53.7
Stef Smith, Windsor, 27:56.0
OUA second team all-stars (finishers 8-14)
Danielle Jossinet, Guelph, 28:27.9
Sarah Wismer, Guelph, 28:33.2
Molly Steer, Queen's, 28:35.2
Melissa Caruso, McMaster, 28:40.7
Bettina Boucher, Wilfrid Laurier, 28:51.1
Hannah Woodhouse, Guelph, 28:51.6
Emily Nowak, McMaster, 28:57.1
MEN'S RESULTS (10 km)
Team standings
Guelph, 41 points
McMaster, 50
Queen's, 85
Western, 99
Windsor, 117
Toronto, 162
Wilfrid Laurier, 234
Laurentian, 237
Waterloo, 241
Brock, 299
Lakehead, 311
Nipissing, 337
Ryerson, 352
Trent, 425
Individual honours
MVP: Connor Black, Guelph
Rookie of the year: Max Turek, McMaster
Student-Athlete Community Service Award: TBD
Coach of the year: TBD
OUA first team all-stars (top 7 finishers)
Connor Black, Guelph, 30:32.2
Sergio Raez Villanueva, McMaster, 30:37.3
Max Turek, McMaster, 30:39.5
Eric Wynands, Queen's, 30:45.3
Jeffrey Tweedle, McMaster, 30:46.4
Josh Kellier, Guelph, 30:47.1
Isaiah Frielink, Western, 30:48.4
OUA second team all-stars (finishers 8-14)
Andrew Nebel, Windsor, 30:49.7
Ben Carson, Western, 30:50.3
Andrew Shepherd, Guelph, 30:52.3
Mark Patton, Guelph, 31:02.2
Robert Lawand, Toronto, 31:02.8
Mitchell Ubene, Guelph, 31:05.2
Mark Schmidt, Queen's, 31:06.4