Thunderwolves VS Roy Griak Invitational
September 24, 2016
9:00 am - 12:00 pm
Minneapolis, Minn.
U of Minnesota
Thunderwolves
Roy Griak Invitational
Men-14th Place
Women- N/A
Game Review
TREE WINS 1ST AT ROY GRIAK
Samantha Connolly | Cross Country
September 24, 2016 — Minneapolis, MN
Photo Credit: Travis Miller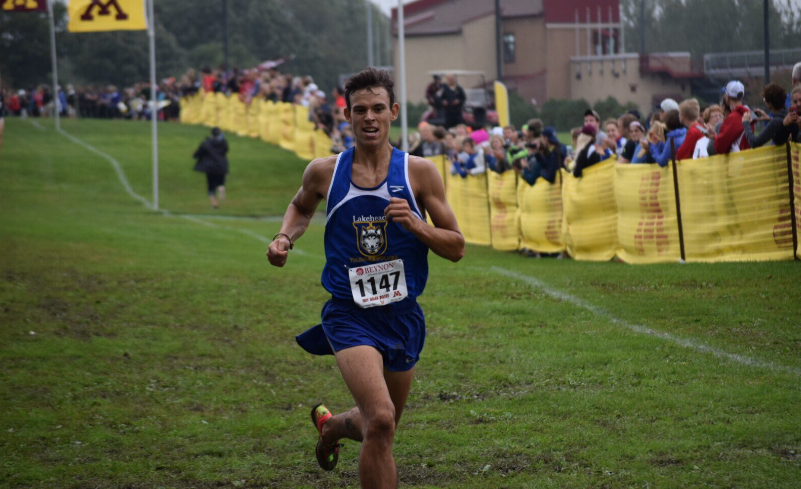 It was a very wet and muddy day at the Roy Griak Invitational in Minneapolis this weekend, where the Lakehead men's and women's cross-country teams successfully ran.
"Overall it was an okay day. It was great to get out and test our fitness and see where we are. Lots to work on tactically but we have 5 weeks until OUA's to improve. We got out well and finished well but didn't run tough enough in the middle of the race," says Coach Sigsworth.
The women did not place a team of 5 runners, however each individual ran very well. Heather Maxfield (49) led the Lakehead women with a time of 26:19 followed by Kayla Gallo (71) and Natasha Frank (112). The men's team placed 14th (out of 40 teams) with Kevin Tree (1) leading the team as the first Lakehead athlete to ever win at the Roy Griak. Freshmen Derek Patterson (58) finished with a time of 27:42, while his teammates Gavin Shields (72), Tyler White (122) and Joe McDonough (152) crossed shortly afterwards.
"Tree was great, he was patient and smart early and tough over the last three km when he needed to be."    – Coach Sigsworth
Kevin Tree improved his 3rd place finish from last year by being the first to cross in the Men's Maroon II race with a time of 25:57. He stayed steady with the pack throughout the majority of the race until the 6km mark where he eventually caught the leader. After battling with his fellow racers, Tree eventually broke into a clear lead with 200m left until he streamed past the finish line.
"I'm happy with the outcome today. Going in, I was pretty tired from some big weeks of training, so I just focused on doing what I could control. I knew I was fit and ready to run well but I knew it was going to be fairly tough from the start. It was fun to get the season started with the team and looking forward to getting better from here." –Kevin Tree
Lakehead Men's Results:
(Top 5 count towards team standing)
(Team/overall/yr/time)
1 Kevin Tree SR 25:57
58 Derek Patterson FR 27:42
72 Gavin Shields SR 27:51
122 Tyler White SR 28:26
152 Joe McDonough SR 28:58
(205) Andrew Galloway S0 29:34
(251) Josh Stovel FR 31:46
Lakehead Women's Results:
49 Heather Maxfield SR 26:19
71 Kayla Gallo JR 26:48
112 Natasha Frank SR 27:56