Thunderwolves VS OUA Championships
October 31, 2015
9:00 am - 12:00 pm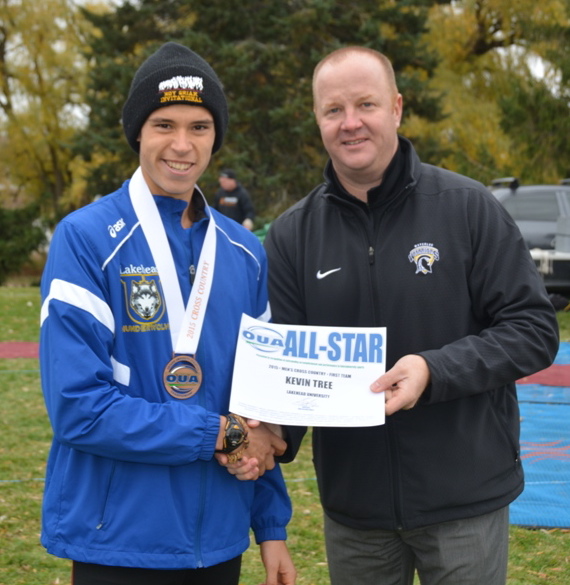 Thunderwolves
OUA Championships
Men 5th
Women 9th
Game Review
Tree Wins OUA Bronze, Men Place 5th, Women 9th
Hugh Mullally | Cross Country
It was a successful day for Lakehead's cross country running teams at the OUA Championships, as the men placed 5th and the women 9th overall. Kevin Tree ran an exceptional race, placing a career-best 3rd at OUA's and earning a spot on the OUA's first All-Star team for a second year in a row.
In the men's race, there was a big lead pack of about 12 for most of the first 7km of the race with Tree doing most of the leading of this group. On the last lap Alex Wilkie (Queen's), Paul Janikowski (Windsor), and Kevin Tree broke away and it was from this group that the medals would be decided. With about 500m to go Wilkie and Janikowski put in a quick surge that Tree was unable to cover, despite chasing hard over the last stretch he wasn't able to close the gap.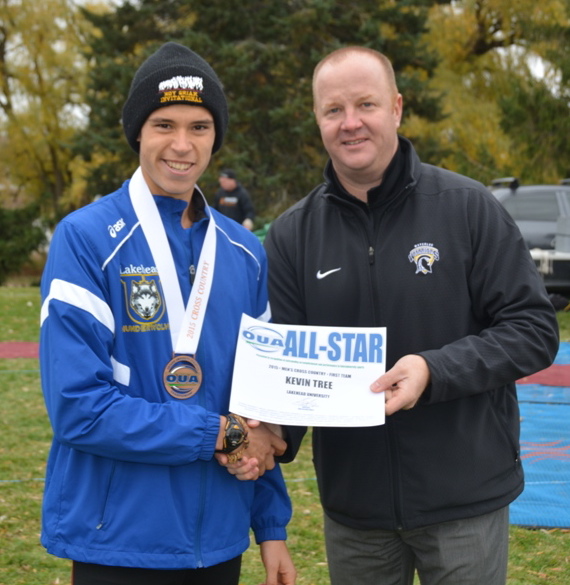 "Overall a good day for Lakehead Cross Country Running – the girls were ninth which is a nice improvement over last year and about where I was hoping they would be," says Lakehead coach Kip Sigsworth.
The women's team finished in 9th with 242 points, 54 points behind 8th place Windsor. The men's team finished 5th with 127 points, a narrow 10 points behind the Queen's Gaels. The Guelph Gryphons men's and women's teams repeated as OUA Champions.
"The men battled hard in a very competitive field. I was hoping we would be able to catch Queen's and finish 4th but they were just a bit better than us today. Tree ran great today and proved once again he's capable of running with the best guys in the country."
In doing so Tree reached his goal of a top 3 finish at OUA's, and sets his sights next on the CIS race in two weeks' time, hosted by Guelph, where he hopes to lead his team to even better results.
 *Lakehead Cross Country History*
Kevin Tree is just the fourth Lakehead runner to ever capture an OUA medal. Kimmo Ahonen (silver, '98) Karl Saidla (Bronze, '00) and Jaclyn Hutton (Silver, '00) are the others.
Lakehead Results
Women
Marla Keyes 29
Callie Roelfsema 36
Heather Maxfield 49
Kayla Gallo 54
Natasha Frank 74
Jacqueline Desimone 75
Men
Kevin Tree 3 – OUA Bronze – Career best
Dominique Aulagnon 19
Mason Quarrell 26
Trevor Zimak 32
Kenny Groop 47
Tyler White 50
Gavin Shields 57
Team Standings
Women's Final Team Standings
1) Guelph Gryphons, 38 points
2) Queen's Gaels, 82 points
3) McMaster Marauders, 103 points
4) Toronto Varsity Blues, 114 points
5) Laurentian Voyageurs, 121 points
6) Western Mustangs, 152 points
7) Ottawa Gee Gees, 161 points
8) Windsor Lancers, 188 points
9) Lakehead Thunderwolves, 242 points
10) Waterloo Warriors, 270 points
11) York Lions, 324 points
12) Brock Badgers, 351 points
13) Ryerson Rams, 392 points
14) Trent Excalibur, 404 points
15) Laurier Golden Hawks, 423 points
16) Nipissing Lakers, 447 points
17) Algoma ThunderbirdsMen's Final Team Standings
1) Guelph Gryphons, 53 points
2) Windsor Lancers, 54 points
3) McMaster Marauders, 64 points
4) Queen's Gaels, 117 points
5) Lakehead Thunderwolves, 127 points
6) Toronto Varsity Blues, 156 points
6) Western Mustangs, 156 points
8) Waterloo Warriors, 264 points
9) Laurier Golden Hawks, 271 points
10) Ottawa Gee Gees, 296 points
11) York Lions, 300 points
12) Laurentian Voyageurs, 355 points
13) Brock Badgers, 409 points
14) Nipissing Lakers, 419 points
15) Ryerson Rams, 425 points
16) Algoma Thunderbirds
17) Trent Excalibur