Lakehead Track & Field/Cross-Country Welcomes OFSAA Cross-Country Stand-Out, Jacob Meier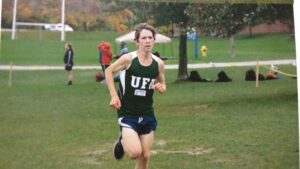 Lakehead Track & Field/Cross-Country Welcomes OFSAA Cross-Country Stand-Out
Lakehead University Track & Field/Cross-Country is pleased to announce the commitment of OFSAA stand-out, Jacob Meier. Jacob will be joining the Wolves on the trails and track next season, as he makes the move from his hometown of Toronto where he attended Ursula Franklin Academy.
Jacob is a 4x OFSAA Cross-Country qualifier out of the city of Toronto, highlighted by a career best finish of 11th at the OFSAA Championships in 2017. On the track, Jacob boasts an impressive personal best of 9:00.56 in the 3,000m event. In addition to his success on the trails and track, Jacob graduates Ursula Franklin Academy on the Honour Roll and will be entering Lakehead's Bsc. Forestry program this upcoming year.
"We're excited that Jacob ended up choosing Lakehead to continue his career academically and athletically," said Coach Joe McDonough. "Since the pandemic, Jacob hasn't really had the opportunity to have a regular competitive season, so I'm excited at the potential he has and how he can help our men's team — Jacob will certainly give our men's Cross-Country team an immediate boost, and we can't wait to integrate him with the rest of the guys" he added.
When asked why he chose Lakehead, Meier said "I choose Lakehead University because I think Thunder Bay is a beautiful place to live and learn in. I'm interested in experiential learning and working close to nature and I think Lakehead's Forestry program will be a great experience!" He then added "I'm also excited to be a part of the Lakehead Cross Country and Track and Field teams. I'm looking forward to running with the Thunderwolves".