Group Fitness
december exAM schedule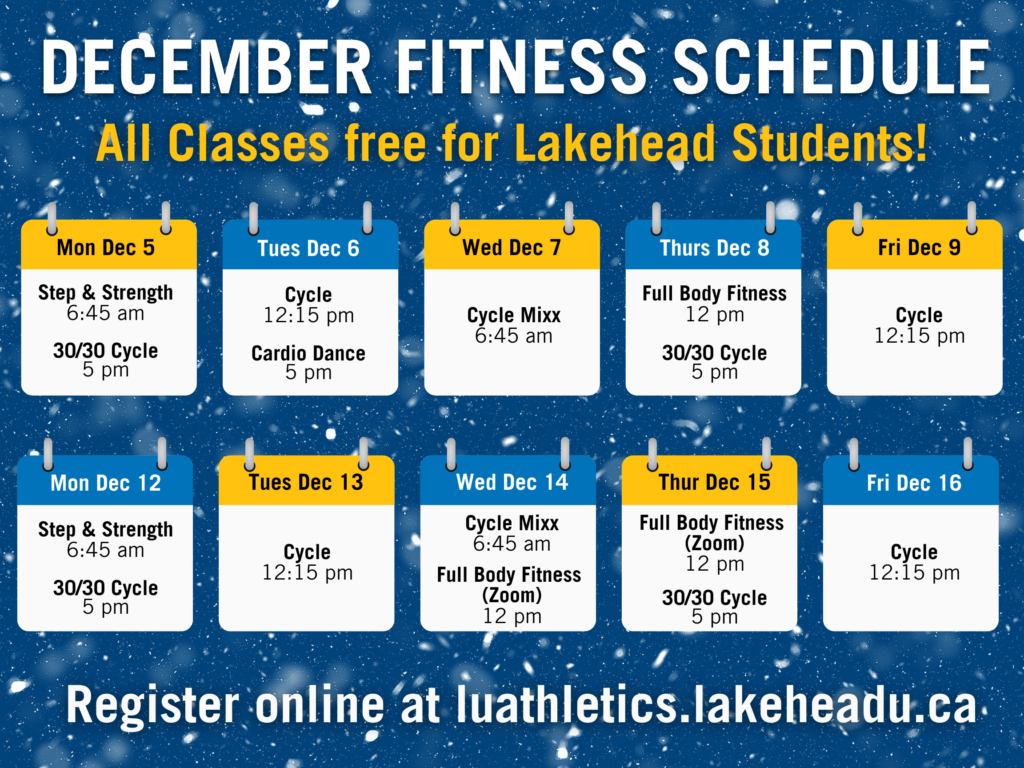 Fall semester schedule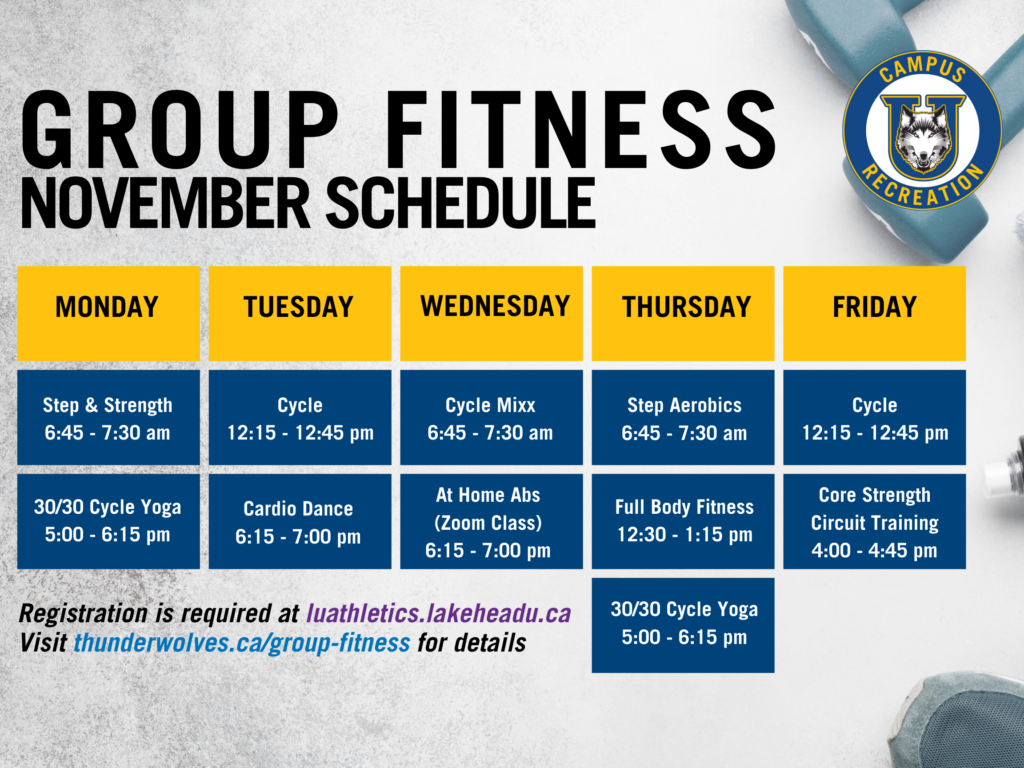 How to Attend Class
PURCHASE A DROP IN PASS OR ALL ACCESS CLASS PASS: In order to attend class, you need to either have an all access class pass, or pay for drop in. Prices are as follows:
Drop In Passes – $8/students & active members, or $12/non-members. To use a drop in pass, simply proceed to online registration and you will be charged upon check-out.
Winter All Access Pass (Includes access for Jan to April classes) – pricing coming soon!
REGISTER ONLINE: Class registration opens up 7 days in advance of the class, and can be completed online through our Member Portal or at the Facility Front Desk.
Class Descriptions
30/30 Cycle Yoga: Run in partnership with Modo Yoga! This class consists of 30 min of high intensity spin, followed by 30 min of hot yoga (with a 15 minute transition in between). Music and drills will change every week.
At Home Abs: A zoom class that can be done from anywhere! Join our instructor for a core-focused routine, that is accessible to any fitness level, whether beginner or advanced! 
Cardio Dance: A twist to modern cardio class, incorporating easy to follow dance steps to all the best hits. This class is designed for all abilities and is low impact. It is just what you need to shake up your day. 
Cycle: Join us for a 30 minute cycle class in our Cardio Room! You determine how hard you want to work when you get in the saddle! Climbing hills, sprints, and jumps will be followed by recovery intervals. A warmup and cooldown round out the workout.
Cycle Mixx: This is a 45 minute combination cycle & strength class! Join instructor Kim in the cardio room for a cycle routine, followed by body weight strength training.
Core Strength Circuit Training: Engage your core muscles in our Core Strength Circuit training class. A variety of exercises will engage your abs, obliques, lower back, and both inner & outer core muscles.
Full Body Fitness: Full Body fitness aims to engage your full body in a variety of both cardio and strength exercises in a dynamic way.
HIIT: This high intensity interval training class incorporates various body movements using different types of equipment (including body weight) in short bouts of high intensity work followed by periods of rest. This class is built for all fitness levels, is low impact and an enjoyable way to end your day!
Lower Body Strength: This class will focus on the foundations of glute training, to help strength and develop your lower body muscles through a variety of exercises.
Turf Fit Bootcamp: Enjoy a bootcamp style workout on our indoor Turf Field using a variety of exercises that utilizes a wide range of equipment from agility ladders to tires. The workouts are a mix of strength, core, and cardio movements.
Step Aerobics: a beginner to mid level choreographed cardio workout starting with a warmup and ending with a cooldown stretch. Options will be provided to participants who want to challenge themselves.
Step & Strength: a combination class of both classic step aerobics exercises and strength exercises off the step!
Sweat Sesh:  Sweat Sesh is a full body strength & conditioning class – improve your cardiovascular system and agility with this class!
FAQ'S
Q: Who can participate in Group Fitness?
A: Anyone! Pricing is unique for students compared to general public, but all facility users are welcome to attend group fitness.
Q: Is registration required ahead of time?
Walk in's are welcome, however due to COVID restrictions class sizes are limited so if you want to guarantee your spot, you should sign up ahead of time!
Q: Do you have equipment available?
A: All equipment required for class will be available during class, with the exception of yoga mats. Be sure to bring your water bottle with you!
Have further questions? Please email campusrec@lakeheadu.ca.