Group Fitness
Classes will begin on Tuesday, February 1st for the Winter Semester. There will be no classes during Reading Week, February 21st through 24th
Winter Semester Schedule – Feb 1 to April 8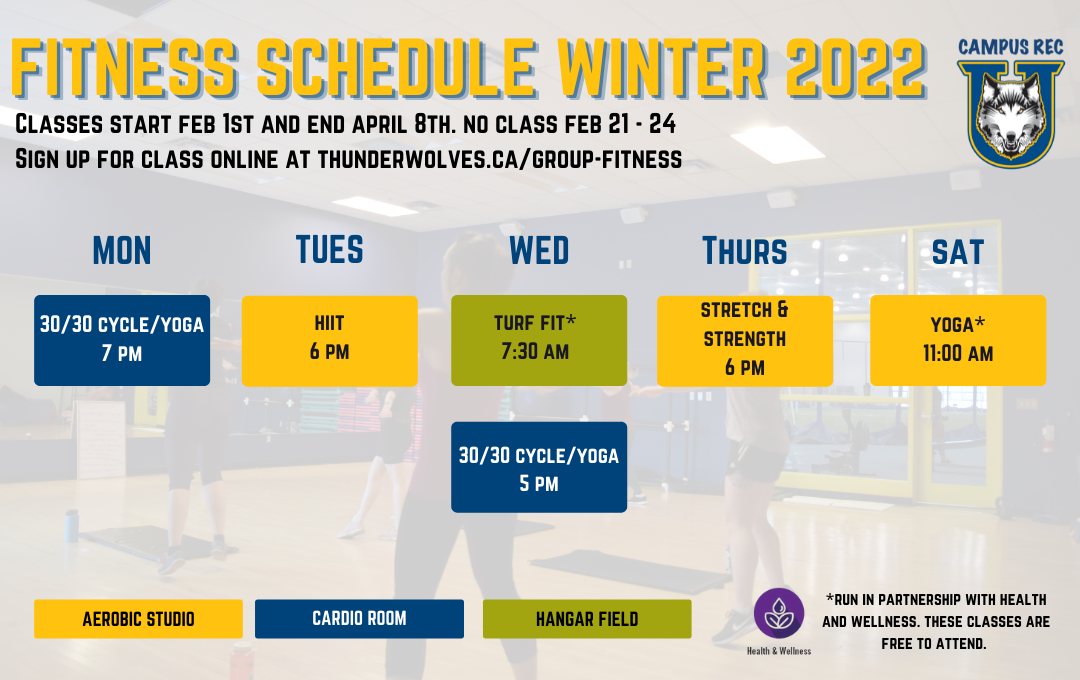 Winter Exam Schedule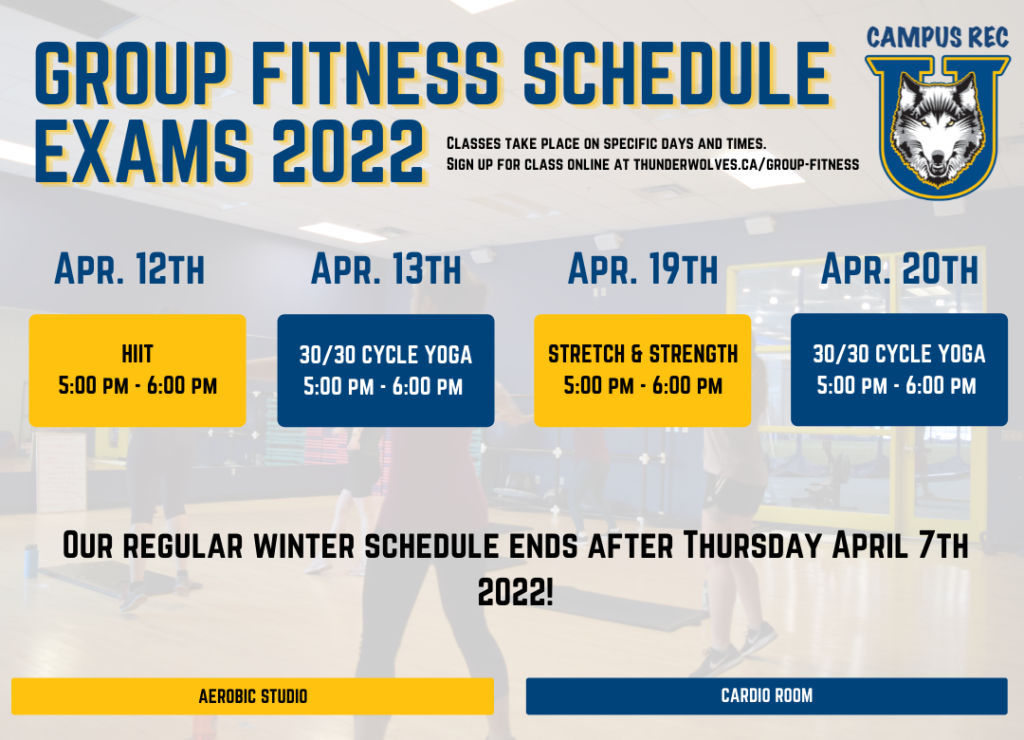 How to Attend Class
REGISTER ONLINE: Class registration opens up 7 days in advance of the class, and can be completed online through our Member Portal or at the Facility Front Desk. Payment is required via one of the two following options:
SINGLE CLASS PASS PURCHASE: Cost is $5.00 for LU Students and currently Facility Members, and $10.00 for all other participants, with the exception of Turf Fit and Saturday morning Yoga, which are both free for all thanks to our partnership with Student Health and Wellness! You will be automatically charged this when registering for class.
ALL ACCESS CLASS PASS: Plan on attending a lot of classes? Purchase the All Access Class Pass so that you pay less per class! The winter semester group fitness pass is $60 $40 (post reading week!)for students/facility members, and $120 for non-members. This can be purchased online at luathletics.lakeheadu.ca by selecting the "Group Fitness Pass Purchase" icon (you will need to be signed into an account before you can register). It can also be purchased at the front desk. After purchasing, you will be charged 0.00 automatically when registering for any fitness classes. Please note individual class registration is still required for pass holders.
Class Descriptions
HIIT – This high intensity interval training class incorporates various body movements using different types of equipment (including body weight) in short bouts of high intensity work followed by periods of rest. This class is built for all fitness levels, is low impact and an enjoyable way to end your day!
30/30 Cycle Yoga –  Run in partnership with Modo Yoga! This class consists of 30 min of high intensity spin, followed by 30 min of hot yoga. Music and drills will change every week. Follow up this spin class in the hot room for 25 min modo practice and a 5 min shavasana!
Turf Fit – Student Health and Wellness invites you to join Registered Kinesiologist, Lindsey Wachter, for functional fitness on the Hangar field.  Enjoy a pre-programmed workout with jump ropes, agility ladders, hurdles, plyo boxes and more! The workouts will be comprised of strength, core and cardio movements and modifications will be offered to increase or decrease difficulty. Working out on turf allows participants to use different pieces of equipment and perform different exercises than their usual routine. The workout will take 30 minutes to complete so drop in anytime between 7:30- 8:00 am to complete this before the end time of 8:30 am. 
Stretch & Strength – This class allows for a pause on the fast-paced day to day activities in our lives and allows for more time to focus on recovery of the body. It incorporates stretching out the muscles while strengthening the core and other muscles vital to our everyday activity. This class is perfect for all fitness levels and is great to slow down the mind at the end of the day!
Yoga – Instructor Ameena Bacchus will guide you through traditional yoga movements and sequences. Cuing and modifications from the instructor will make this class appropriate for all levels. Offered at no cost in partnership with Student Health and Wellness,
FAQ'S
Q: Who can participate in Group Fitness?
A: Anyone! Pricing is unique for students compared to general public, but all facility users are welcome to attend group fitness.
Q: Is registration required ahead of time?
Walk in's are welcome, however due to COVID restrictions class sizes are limited so if you want to guarantee your spot, you should sign up ahead of time!
Q: Do you have equipment available?
A: All equipment required for class will be available during class, with the exception of yoga mats.
Q: What are your COVID-19 Safety Precautions?
A: All classes have been modified to ensure social distancing, and equipment sharing will be limited. If equipment is to be shared, cleaning supplies will be available. Masks do not have to be worn during class, but all class attendees must be the Lakehead University Vaccine Requirements and complete Daily Screening prior to class.
Have further questions? Please email campusrec@lakeheadu.ca.