Intramurals
Intramural Sports offers the Lakehead community an opportunity to stay involved in the sports they love, or to try a new sport while they attend university. All intramural sports are designed so that each student can have fun in a safe recreational setting, regardless of their skill level or experience!
Looking to register? Head over to our Online Portal to do so. Detailed instructions can be found below for how to complete registrations.
Interested in signing up, but want to try it out? We have a FREE drop-in week running Sep 18 to 21! Learn more at thunderwolves.ca/events
Below you can find out more information about:
Fall 2022 Sport Offerings
Don't see the sport you want? Check back often, as sports may be added in later as special events or tournaments! You can also contact our office at campusrec@lakeheadu.ca to suggest additional league sports for future semesters. 
The rulebooks for all sports, as well as our full Intramural Handbook, are available on this page and should be reviewed by all participants prior to participating.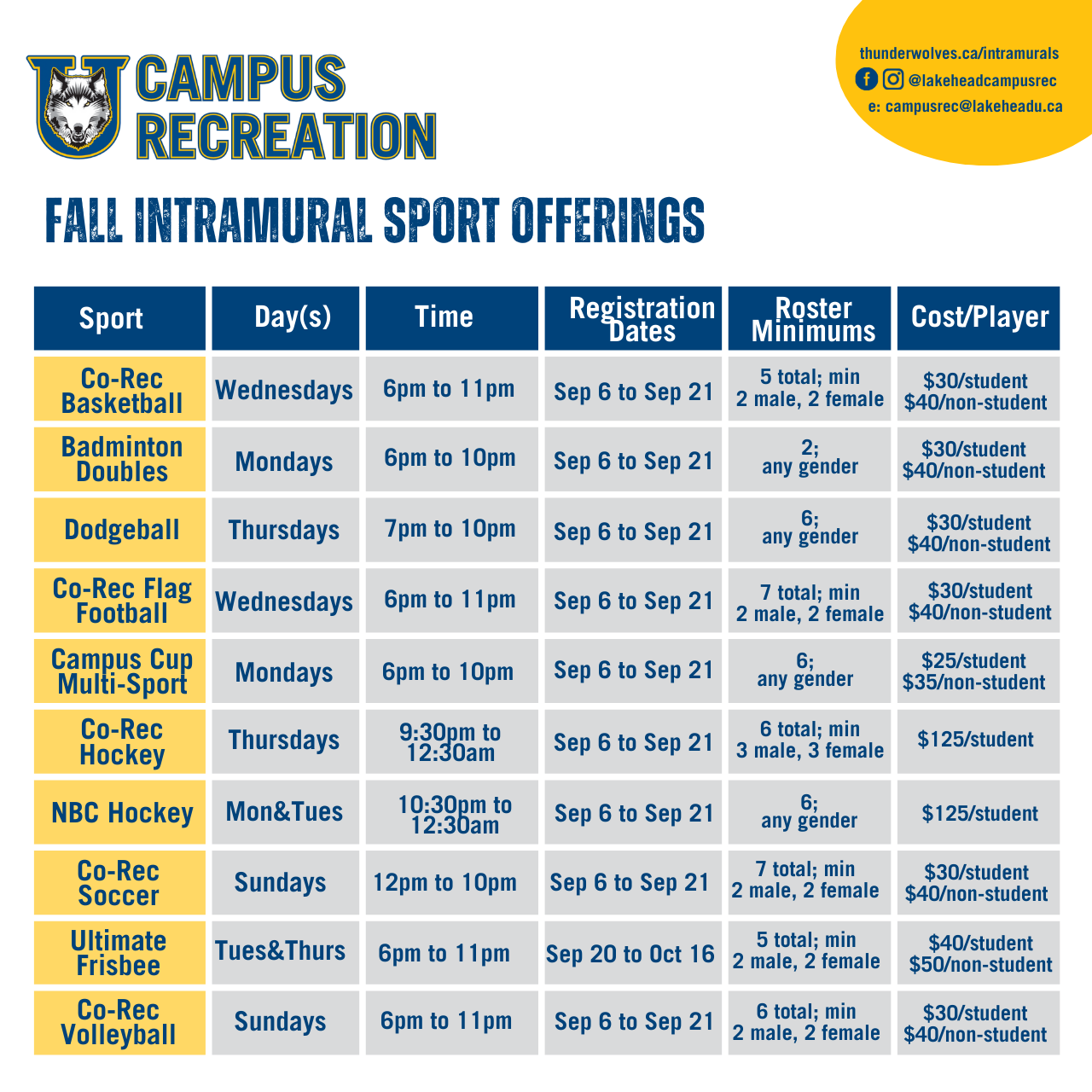 ---
Important Dates
Registration Opens: Tuesday, September 6th, 2022 for all sports except Ultimate Frisbee and . Ultimate Frisbee Registration will open September 20th. 

Team Registration (for all sports excluding Frisbee) closes: Wednesday, September 21 @ 11:59 pm. Please note that individual players can still join their teams up until the roster addition deadline.Ultimate Frisbee registration will close on Sunday, October 16th at 11:59 pm

Roster Addition Deadline: Week 4 of Regular Season (varies sport to sport)

Season Start Date: The week of September 25th (excluding Ultimate Frisbee, which will have a delayed start due to Outdoor Season). 

Season End Date: Latest possible date of play, including playoffs, is December 5th
---
How to Register
Where to Register: 
Go to the

Registration Portal Here 

Begin registration by clicking "Sign In" at the top right. Select "lakehead user login" if you are a current student, faculty, staff or recent alumni. All other members should use the Community User login. If you do not yet have an account please click sign up at the bottom. 

Enter your username and password 

Click the "Intramural Sports"  Icon and proceed with registration!
Team Captain Instructions (How to Create a Team)
Follow these instructions if you are a team captain needing to create your team
Click the "Intramural Sports" icon on our

registration portal

. 

Select the sport and division you wish to register for, and select "Register"

Select "Register a Team" & proceed with the required steps.

If the league is full, you can join the waitlist to be added if more slots become available and/or a team withdraws 

Enter an appropriate Team Name and select if you would like to play on the team 

If you select yes, you will be then be assigned as the captain and a player on the roster (If you select no, you will be the captain but not a player on the team)

Complete all the required prompts 

Select "Checkout" to complete the registration and receive the confirmation email 

After completing registration, be sure to navigate to your "

My Team

" page to invite your teammates via email!

Your team will not have a confirmed spot in the league until your sports roster minimum has been met

, which is stated in your registration quiz. 

Don't know the emails of all your teammates? Send them the below instructions for how to join a team without invitation.

If you know you will need free agents, be sure to check off "Interested in Free Agents" on your team page.
Registering as an Individual
Follow these instructions if you are a player needing to join a roster or a free agent looking for a team
Click the "Intramural Sports" icon on our

registration portal

. 

Select the sport you wish to register for and your desired skill level and select "Register"

Select "Register as a Player" 

If you are part of an already organized team

click "Join Team", and then find the team you will be playing on and click "Request to Join" 

Complete all the required prompts 

If you are a free agent looking for a team

, select "Become a Free Agent"

Once a team captain approves your request you will receive an email to complete registration.

If there is a particular team you are wanting to join, you can also hit "request to join" under that team name to notify that captain you'd like to join!

Once you have been accepted to join a team, you will receive an email with further instructions to complete registration. Use the provided link to complete payment and finalize your registration
---
League/Division Types
Open vs Co-Rec vs. Women/Non-Binary Divisions
Open – any sport labeled as "open" or that does not have any gender descriptors means that it does not have gender requirements for the on-court/on-field team. Examples of these leagues are Dodgeball and Campus Cup Multi-Sport
Co-Rec – any sport labeled as "Co-Rec" means that the on-court/on-field/on-ice team must meet certain gender requirements. For example, Co-Rec basketball requires at least 2 of on the 5 players identify as female, at least 2 identify as male, and the 5th player can be of any gender identity. 
Women/Non-Binary – any sport as a "women/non-binary" league means that any participants registering for this league must identify as women or non-binary to participate. 
Competitive vs. Recreational Divisions
The majority of Lakehead Campus Rec Intramural Sports just have one division, and are not divided into competitive vs. recreational. However there are certain sports, due to the number of teams, that offer "Competitive" or "Recreational" divisions. 
If a division is classified as "Competitive", it is recommended that any teams signing up for this league have moderate experience in the sport.
If a division is classified as "Recreational", that means that teams can sign up for the division regardless of playing experience. These divisions have more of an emphasis on fun and social atmosphere as opposed to competition. 
---
Frequently Asked Questions
What is the cost to participate in Intramurals?
The majority of intramurals are $30/student, or $40/non-student. Some leagues may vary due to different number of games or additional expenses, such as ice time.
Why are intramurals charged per player, instead of per team?
Data shows that many captains historically do not receive full reimbursement from their team, or were unable to pay the cost for a full team at the time of registration. To help ease the financial burden on captains and reduce the amount of money needed at the time of registration, intramurals are now priced per player instead of per team.
Do I have to be fully vaccinated to play Intramurals this year?
At this time, vaccination is not required. Lakehead Campus Recreation will continue to abide by any policies set forth by the university and/or Government of Ontario. 
Who is allowed to play intramurals?
Almost all of our leagues are open to students, faculty, staff, and the general public that are 17 years of age or older. The only exception to this is Ice Hockey, which is for students only. 
How do I register for intramurals?
Registration is done fully online for our intramurals! See our registration instructions above for assistance. Need to register in person? Contact campusrec@lakeheadu.ca to arrange in person registration as needed. 
Do I need to have a whole team organized in order to play?
No! You can either register a team and attempt to recruit free agents to your roster, or you can register as free agents and all request to join the same team together!
Please note if you do choose to register a team and do not meet the required roster minimums, you may lose your spot in the league if the requirements are not met. 
I didn't join a team before the league started, but I still want to play. Can I join late?
Yes – roster additions can be made up until week 4 of any league sport. Players do need to participate in at least 2 regular season games to be eligible in playoffs. 
Do I have to be available all days/times listed for my sport?
Ideally, yes. We are able to take game time requests, however there is no guarantee that we can always place your team at a certain time.
What is the skill level of the teams?
Within all of our leagues, we have teams that vary all the way from beginner to experienced! All skill levels are welcomed into our leagues.